Source: China Fund News Taylor
Last Thursday, BYD became popular because of his boss Wang Chuanfu's speech.
BYD Chairman Wang Chuanfu "proclaimed" Lei Jun said, "5 billion is nothing to Lei, and 100 billion is not a problem. The key is to waste three years of your time. How much is the value of these three years?" The media interpreted Wang Chuanfu as persuading Lei Jun not to build a car so as not to waste time.
On the evening of the 13th, Wang Chuanfu urgently refuted the rumors and revealed a big advantage. He was negotiating with Xiaomi for a car project!
Wang Chuanfu refutes rumors: Lei Jun did not persuade him not to build a car
Is negotiating with Xiaomi to make car cooperation
A few days ago, BYD Chairman Wang Chuanfu stated at the 2021 China Automotive Chongqing Forum that it is a misunderstanding to persuade Lei Jun not to build a car, and he is negotiating with Xiaomi to discuss cooperation in the automotive field.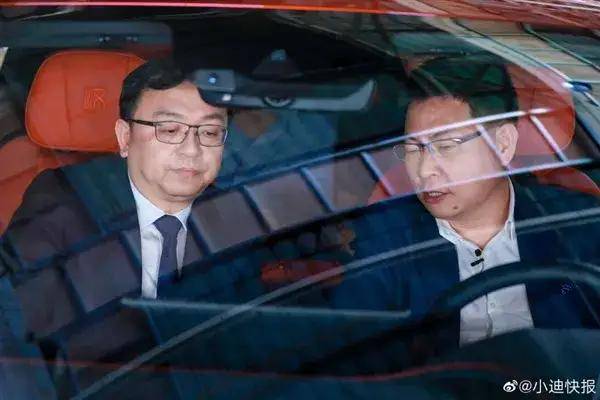 Wang Chuanfu pointed out that the issue was misunderstood by the media, saying that BYD persuaded Xiaomi's Lei to not build cars. In fact, Xiaomi and BYD have a very good cooperative relationship, because BYD has produced a large number of Xiaomi mobile phones for Xiaomi, BYD and There is a very strategic partnership between Xiaomi.
In the future automotive business, BYD will also support Xiaomi's development in the automotive field. Not only does it support, BYD is also willing to cooperate with Xiaomi in the automotive field, and is negotiating some projects.
Wang Chuanfu also explained the example at that time again. In the field of automobile iteration, the strategic direction is very important. If the strategic direction is good, you should avoid detours. If the strategic direction is not good, you will lose 3 or 4 years. Time, then there may be no chance in the fierce competition.
Therefore, precise strategic direction is an important feature of success.
When talking about the battery problem, he said that the blade battery is a critical period for BYD, and reform requires key technologies to solve the pain points of the market. BYD proposed blade batteries in March last year, which changed the direction of batteries in China and the installed capacity increased rapidly. In the past May, the monthly output of lithium iron phosphate batteries in my country exceeded that of ternary lithium batteries for the first time in the past three years. In May, the total output was 63.6%. BYD relied on blade batteries to reverse the structure and bring back the industry's oscillations.
What did Wang Chuanfu say last week?
On the afternoon of June 10th, #Wang Chuanfu claimed that Huawei's mobile phone was made by BYD.# rushed to the hot search on Weibo.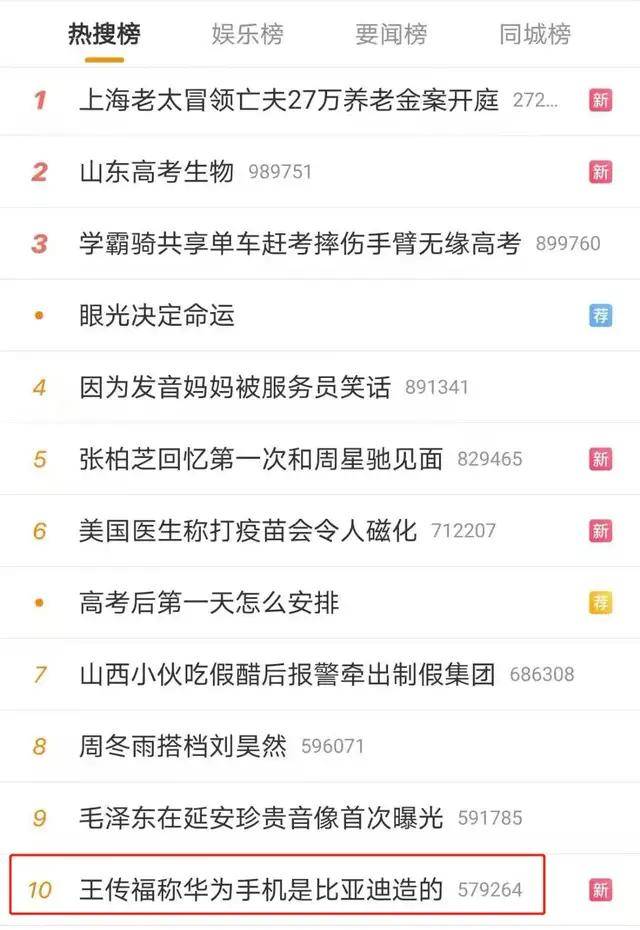 On the evening of June 9, at the 2021 Yabuli China Entrepreneurs Forum, BYD Chairman Wang Chuanfu shared.
Wang Chuanfu said that new energy vehicles are the outlet. Everyone thinks that the market is very large and the growth rate is very fast. Everyone rushed in. However, new energy vehicles are a new thing, and there are many routes. If the route is crooked, it may lose money and time.
Wang Chuanfu emphasized the importance of precise strategy for enterprises, saying that 5 billion is not money for many big coffees who come in, but the time cost is very important. "For example, Mr. Lei (Lei Jun), 100 billion (making a car), the key is to waste your three years, how much is the value of these three years? You can't buy it with money.",
Wang Chuanfu denied whether the above remarks implied that Xiaomi chairman Lei Jun would spend a lot of time building cars. "If the company's strategic direction is wrong, it may not be too much to lose 5 billion, but you have lost three years, this is very important."
Wang Chuanfu emphasized the importance of making the new energy vehicle market bigger: "Whether it is a new force that builds a car, whether it is a platform or a mobile phone, it will build electric vehicles after entering (making cars). China's electric vehicle market penetration The rate is only 12%. In fact, we need them to come in, and use 90% of the cakes of fuel vehicles to use mobile phone traffic and mobile phone fans. Some platform companies use its traffic and ecology to come in and persuade everyone not to buy it. Fuel cars, all come to buy electric cars. Doesn't this cake get bigger? When it gets bigger, it depends on whose technology you have to cut (good)."
Wang Chuanfu believes that it is a good thing for so many players to enter the new energy vehicle industry. Fuel vehicles will be slowly replaced, but the market competition will become extremely fierce.
The last time Xiaomi talked about car manufacturing was in the first quarter financial report exchange at the end of May. President Wang Xiang said that it may take three years to build a good car. He does not think the chip shortage will continue for three years, and now he does not consider this issue. Car building is still in the early stages.
In addition, Wang Chuanfu said, "We OEM many mobile phones, and most of Huawei's mobile phones are made by us."
"Whose are you using? Huawei's, we made it. We made 90% of Huawei's metal frames, and we made the entire processing and assembly of OEMs," said Wang Chuanfu.