On June 15, it has been more than half a month since Coca-Cola first launched an alcoholic beverage, Topo Chico hard soda sparkling wine. A reporter from Beijing Business Daily found in the Coca-Cola Tmall flagship store that the product sold nearly 8,000 in the past half month. The sales performance is relatively good in alcohol products. It is understood that Rui Ao Zero Sugar Sparkling Wine, which was launched on the same day as Coca-Cola Sparkling Wine, only sold more than 100 in the Rui Ao Jingdong official flagship store.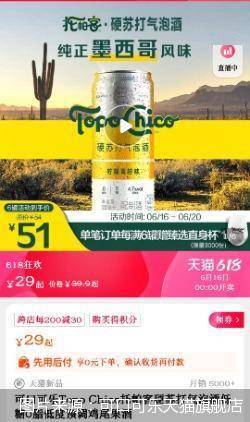 While Coca-Cola's new products have been well received by the market, a reporter from Beijing Business Daily discovered that beverage companies have already targeted the alcohol track. The beer category appears in the new trademark of Wanglaoji, a leading domestic herbal tea company, and another member may be added to the liquor market.
For many beverage companies involved in alcohol, industry insiders analyzed that beverage companies' cross-border layout of alcohol is mainly because their category growth is restricted, and they hope to seek new increments through cross-border.
Cross-border wine sales
When the new Coca-Cola sparkling wine products were launched, heated debates arose. Beverage companies are very attractive to be a wine seller. When it comes to the sales market, beverage companies' wine selling dividends begin to appear.
A reporter from Beijing Business Daily entered the official flagship store of Coca-Cola and found that from the first day of June to today, the new sparkling wine has three product links. According to incomplete statistics, the total sales volume is nearly 8,000 and the number of evaluations totals nearly 1,000. Compared with Rui'ao Zero Sugar Sparkling Wine, which was launched on JD.com on the same day, with only 100+ ratings, Coca-Cola's new products are more popular in the consumer market.
It is not surprising that "Happy Water" is involved in wine, as the interaction between herbal tea and beer has also attracted attention. It is reported that Wanglaoji, a leading Chinese herbal tea company, has classified beer categories among the 100 newly applied trademarks. In this regard, the person in charge of Wang Laoji said that the company registered the trademark only to protect intellectual property rights, and there is currently no plan to market beer products.
However, a reporter from Beijing Commercial Daily found in the official flagship store of Guangyao Baiyunshan that Wanglaoji already had craft beer, Jibei, but the sales of this product were bleak, with monthly sales of only 3.
Yin Kai, the founder of Chaoyinhui (Shanghai) Brand Management Co., Ltd., believes that although Wanglaoji has had a dispute over management rights, he has always done a good job in trademark protection. Regarding the 32 categories of beer, Guangzhou Pharmaceutical Group applied for and was approved for registration in 1992 and 1995. Since then, it has continued to apply for a large number of trademarks in 32 categories. Therefore, Wang Lo Kat's response does not rule out the possibility of his involvement in beer.
The company that loves liquor trademarks is also Genki Forest. In April this year, Yuanqi Forest registered "Liquor Gas Forest" and other liquor trademarks. The reporter further learned through Tianyan Check that in the international classification of Yuanqi Forest's trademark information, there are a total of 1,365 "32 categories-beer and beverages" and a total of 474 "33 categories-alcohol". Prior to this, Yuanqi Forest invested in Shanghai Bishan Beer Co., Ltd. and Beijing Guanyun Technology Co., Ltd. in February and March this year, respectively, and entered the beer and liquor double track.
Break the circle for profit
From Coca-Cola to Genki Forest, the enthusiasm of various beverage companies to sell alcohol is unabated. The main reason is to find new profit growth points outside of its own category.
Regarding Coca-Cola, some people in the industry believe that, in addition to improving the strategy of all-category beverages, beverage companies' selling alcohol is more likely to seek to increase the company's business under conditions of unsatisfactory performance. According to the 2020 financial report, Coca-Cola's revenue last year was 33 billion U.S. dollars, a year-on-year decline of 11%. In addition, according to Coca-Cola's 2021 quarterly report, the company achieved a net profit of US$2.25 billion in the first quarter of this year, a year-on-year decrease of 19%.
With the decline in the performance of beverage companies, the temperature of the beverage market remains unchanged. According to Tmall data in 2020, the search volume of product keywords such as "micro-drinking" and "fruit wine" has increased by about 70% year-on-year. Tmall liquor turnover data in 2020 shows that the overall year-on-year growth rate of wine is 40%, the growth rate of fruit wine is 70%, and the growth rate of pre-mixed wine is 60%.
Yin Kai believes that the alcohol products and self-owned beverage products of beverage companies have a considerable degree of overlap in the three dimensions of target groups, channels and consumption scenarios. At the same time, in terms of supply chain management and quality control, beverage companies have a crushing advantage over new startups. Compared with traditional wine companies, beverage companies have obvious advantages in consumer taste trend research and brand promotion.
Do consumers pay?
Beverage companies have set off a craze for selling alcohol, but what is concerned is whether these "foreign wines" can last and whether consumers will pay for it.
Industry insiders believe that from the beginning of Wahaha's entry into the wine track in 2013, and now that young talents such as Yuanqi Forest hit the wine market, the layout of beverage companies in the wine industry tends to have a rapid momentum at the beginning, but the wine market needs long-term layout and deep cultivation , The alcohol products of beverage companies can arouse the curiosity of consumers, but they may not be able to retain consumers.
In the comment section of Coca-Cola sparkling wine new products, consumers have mixed feelings about the product. Some consumers say that the new product has a refreshing taste, low sugar and low fat, and another part of the consumer believes that the new product is "nothing but nothing" and "just passed."
In addition, a person in charge of the supermarket beverage area told reporters that cross-border products such as new Coca-Cola sparkling wines will be considered when purchasing. Because this type of product will attract more curiosity to consumers, it can also be called a "traffic product", but the product has not yet been launched in the supermarket, and its offline sales are difficult to predict, because the increase in online sales is not It means that offline is still popular.
Regarding the impact of beverage companies' entry into the wine track on traditional wine companies, Yin Kai believes that most beverage companies are optimistic about low-alcohol wines and have little interest in high-grade wines. The low-alcohol body weight accounts for a very low proportion of the entire wine industry, so it will not have an impact on traditional liquor companies, but it will pose a certain threat to the beer industry. For pre-mixed and newly created low-alcohol wine companies, although they have taken root on the low-alcohol wine track, they still face pressure from many new entrants.
In the view of beer marketing expert Fang Gang, the future trend of beverage companies' wine making is still difficult to see. After all, the boundary between wine and beverages is blurring.
Beijing Commercial Daily reporter Zhao Shuping, intern reporter Zhao Dan, intern Wang Ao