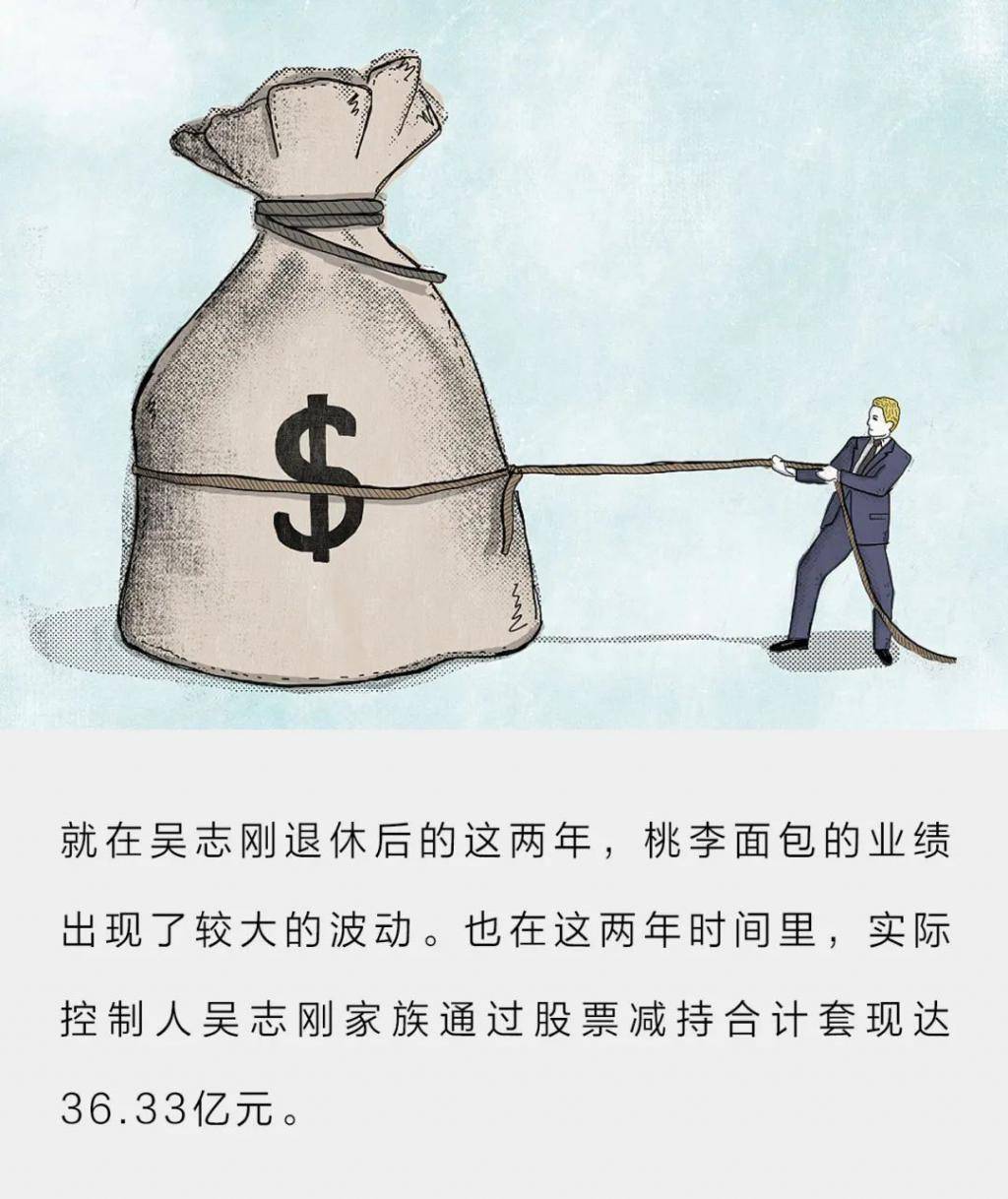 After retiring from the Sanchi podium at the age of 60, he started his own business selling bread. Twenty years later, the former teacher became the "Bread King of the Northeast", and wealth came in with it.
This person is Wu Zhigang, the founder of Taoli Bread. On the 2020 Forbes China Rich List, ranked by place of residence, Wu Zhigang's family has a wealth of 30.1 billion yuan, making it the richest man in Shenyang.
Starting from Dandong, a border city on the Yalu River, to Shenyang, the provincial capital, to occupy the Northeast market, Wu Zhigang wanted to replicate the peach and plum bread to the whole country through a "central factory + wholesale" model. However, the road to expansion was not smooth.
In the past two years, the growth rate of Taoli Bread's performance has slowed down, and the growth rate of revenue and net profit has dropped to single digits. The performance report for the first quarter of 2021 released on the evening of April 11 showed that revenue was 1.327 billion yuan, an increase of only 0.31%; net profit attributable to the parent was 163 million yuan, an increase of -16.27% year-on-year, setting a first-quarter performance since Taoli Bread went public Record for the worst growth.
Moreover, the Wu Zhigang family, as the actual controller, continued to reduce their holdings and cash out on a large scale after the expiry of the restriction period, which also attracted a series of doubts.
The richest family cashed out over 3.6 billion
Taoli Bread is a typical family business, and a huge family crony runs through the company's equity and management.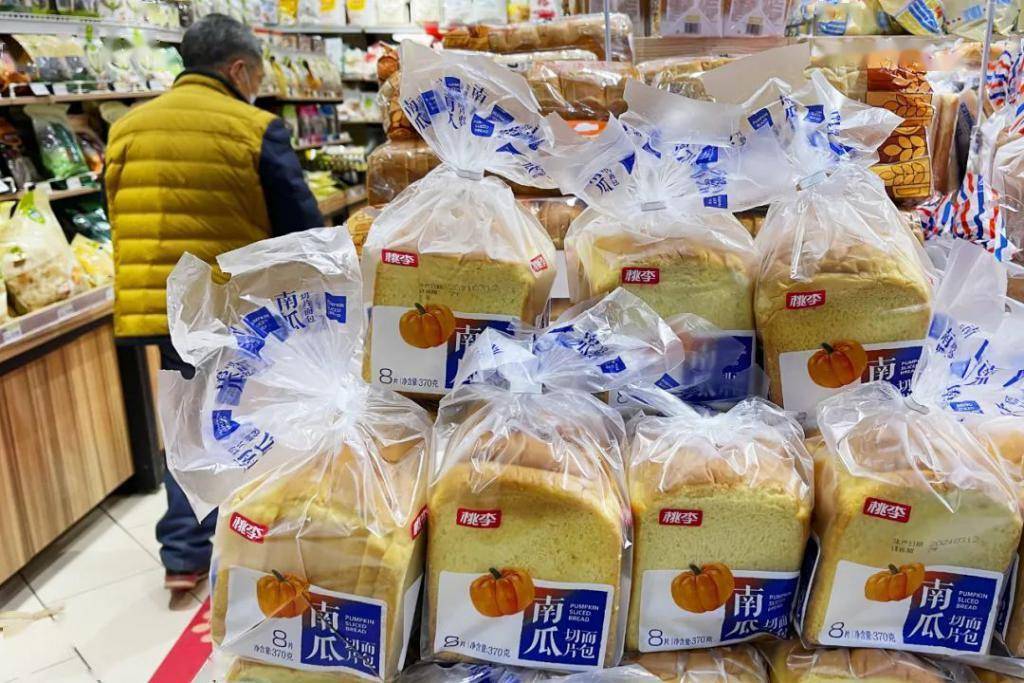 Wu Zhigang was born in 1935 and spent his life before the age of 60 in Dandong. In this small border town, he worked as a telegrapher and a teacher in the Dandong Municipal Telecommunication Bureau, from Dandong No.1 Silk Factory School to Dandong Silk Industry School.
In 1995, Wu Zhigang, who had worked so hard for most of his life, retired. The routine operation should be to enjoy the old-age life of a sweetheart and grandson. However, under the spring breeze of reform, Wu Zhigang was moved to start a business.
He took his second son, Wu Xuequn, to open a bakery in the local area. Perhaps because of his teaching, he named the bakery "Tao Li", probably because he wanted to sell the peach and plum bread all over the world.
Twenty years later, in 2015, Wu Zhigang and his sons landed on the A-share market with Taoli Bread, and Taoli Bread became China's "first share of bread". At the time of listing, among the natural-person shareholders of Taoli Bread, there were about 20 relatives of Wu Zhigang's family.
After the expiration of the restricted sale period, Wu Zhigang and his family members started a continuous reduction in holdings.
As of the end of 2018, the top eight shareholders of Taoli Bread are all members of the Wu Zhigang family. Among them, the top five shareholders Wu Xuequn, Wu Xueliang, Wu Zhigang, Sheng Yali, and Wu Xuedong are the actual controllers of the company, holding a total of 74.46% of the shares of Taoli Bread; Wu Zhigang and Sheng Yali are married, and Wu Xuedong, Wu Xuequn and Wu Xueliang are their eldest sons and second sons, respectively And three sons.
The other three shareholders are Sheng Yali's younger brother and sister: Shenglong, Sheng Yaping, and Shengli. The three persons collectively hold 8.34% of the shares of Taoli Bread.
At the same time, Wu Zhigang is the chairman of Taoli Bread, Wu Xuequn is the director, general manager and executive general manager, Wu Xueliang is the vice chairman and executive general manager, and both Wu Xuedong and Shenglong are directors of the company.
In addition, Wu Zhigang's younger brother Wu Zhidao, Wu Xueliang's wife Xiao Shuyan, Sheng Long's wife Fei Zhihui, Sheng Long's brother-in-law Lu Changen and other close relatives of the actual controller and close family members all hold shares in the company.
In 2018, the directors, supervisors and senior executives of Taoli Bread reduced their holdings. At the end of December of the same year, Taoli Bread went public for three years, ushering in the large-scale lifting of the ban on the initial public offering of restricted shares. Only five days later, the Wu Zhigang family announced an announcement of their shareholding reduction plan. From this time on, the Wu Zhigang family began to reduce their holdings.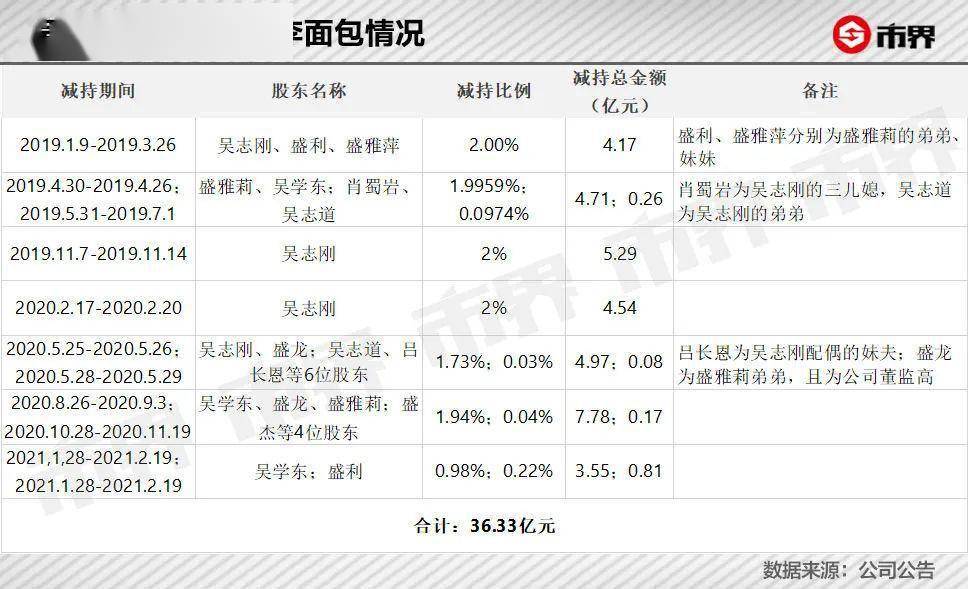 The implementation of the share reduction began in January 2019. As of February 20, 2021, Wu Zhigang and his family members have disclosed seven share reduction plans and announcements on the results of the share reduction. In the past two years, the Wu Zhigang family has cashed out a total of 3.633 billion yuan through stock reduction.
In 2020 alone, the Wu Zhigang family cashed out 1.754 billion yuan. In 2021, as of April 5, it has cashed out 436 million yuan.
In addition, in September 2019, Taoli Bread publicly issued 10 million convertible corporate bonds (1 billion yuan), and Wu Xuequn, Wu Xueliang, Sheng Yali and Wu Xuedong placed 55.27%. On the day the convertible bonds were listed for trading, Sheng Yali emptied her bonds. As of February 20, 2020, less than half a year after the listing and trading, the four members of this family reduced their holdings to only 5.41%.
Taoli Bread's announcement on the results of the share reduction issued on February 20, 2021 shows that as of the announcement date, Wu Xuequn, Wu Zhigang, Wu Xueliang, Sheng Yali, and Wu Xuedong still hold 61.54% of the shares of Taoli Bread, while Shenglong, Xiao Shuyan, Shengli, and Shengjie , Sheng Yaping, Sheng Ling, Fei Zhihui, Lu Changen and Wu Zhidao still hold 6.37%. The Wu Zhigang family holds 67.91% in total.
Isn't it optimistic about the company's development prospects that the actual controller family continues to reduce their holdings and cash out?
After the shift, the pace of growth slowed down
After retiring from his post as a teacher, Wu Zhigang used his retirement time to create the second spring of his career. Not only did he sell bread to the Northeast, he also became famous. More importantly, the wealth he has created during these two decades is unimaginable when he was a teacher.
Wu Zhigang used to be the oldest chairman of A-shares. In April 2019, 84-year-old Wu Zhi just retired from the position of chairman of Taoli Bread, and finally handed over the business of Taoli Bread to his sons. At that time, the sons were not young anymore.
After Wu Zhigang retired to the second line, the 48-year-old third son Wu Xueliang took over as the chairman and concurrently the executive general manager; the 53-year-old second son Wu Xuequn was the director, general manager, and executive general manager; the 56-year-old eldest son Wu Xuedong was the director and the subsidiary Jinan Taoli's executive director and general manager; Wu Zhigang's 78-year-old wife Sheng Yali is still a director, and Sheng Long is also a director of the company.
In the two years after Wu Zhigang retired, that is, the two years after his sons officially took over, Tao Li Bread's performance has fluctuated greatly.
First in 2019, Taoli Bread's operating income increased by 16.77% year-on-year, but net profit only increased by 6.42%. This is the first time the company's growth rate has fallen to single digits since its listing. The explanation given by Taoli Bread is that in order to effectively respond to market competition and increase market development, the company has increased its promotional activities, resulting in a year-on-year increase in the sales expense ratio.
In 2020, Taoli Bread achieved operating income of 5.963 billion yuan, a year-on-year increase of 5.66%; net profit was 883 million yuan, a year-on-year increase of 29.19%. This is the first time that revenue growth has dropped to single digits since the company went public.
Regarding the reason why the growth rate of net profit far exceeds the growth rate of revenue, Taoli Bread said that the increase in sales revenue has promoted the expansion of production scale, and the overall scale effect has been enhanced. At the same time, due to the national phased social security reduction and exemption policy, the company's costs and expenses have also been affected. decline.
In 2020, the gross profit margin of Taoli Bread is the lowest since its listing, but at the same time, the net profit margin is the highest since its listing.
Among them, the most influential is sales expenses. In contrast to 2019, sales expenses in 2020 are negative growth.
In 2020, the sales expenses of Taoli Bread was 524 million yuan, a sharp decrease of 57.31% compared to 2019. The company explained that it was mainly due to the implementation of the new revenue standard in 2020 and the adjustment of product distribution service fees to operating costs.
Since its listing, the sales expense ratio of Taoli Bread has continued to rise, from 14.04% in 2015 to 21.76% in 2019, showing an increasing trend year by year. In 2020, there will be a sudden turn and drop to 8.79%.
As a leading enterprise in the short-term bread industry, Taoli Bread's main business and main products have not undergone major changes in 2020.
In terms of products, the company's core products are Taoli brand breads and pastries, accounting for 97.89% of revenue in 2020, which is the absolute reliance of Taoli bread; and the two major holiday products developed for traditional holidays-moon cakes and Zongzi has always been a marginal product of the company, accounting for 1.97% and 0.13% of revenue in 2020, which has a negligible impact on performance.
Therefore, how well the bread and pastries sell is directly related to the performance of Taoli Bread.
In 2020, the operating income of bread and pastry products was 5.837 billion yuan, an increase of only 5.60% over the same period last year. Although the company claims that star products such as ripeness continue to grow steadily, and new products such as waffle cakes and soft mountain toast bread have shown relatively high growth, overall, the bread and pastry business of Taoli Bread last year was not as good as in previous years. it is good.
This is not unrelated to the hindrance of the national expansion of Taoli Bread.
Lost in Shanghai, defeated in Shenzhen
The Wu Zhigang family has always wanted to sell peach and plum bread to "all over the world". This is also the strategy of peach and plum bread: focus on small but refined, not pursuing more varieties, but pursuing the scale of production and sales of single products, while reducing costs.
Nowadays, my country's bakery industry has two main production and business models: one is to set up a central factory in the sales area to radiate the region in the form of wholesale. This model can improve production efficiency and increase the scale effect; the other is the establishment of chain bread Store, this model can meet consumers' requirements in terms of product quality, taste and freshness to the greatest extent.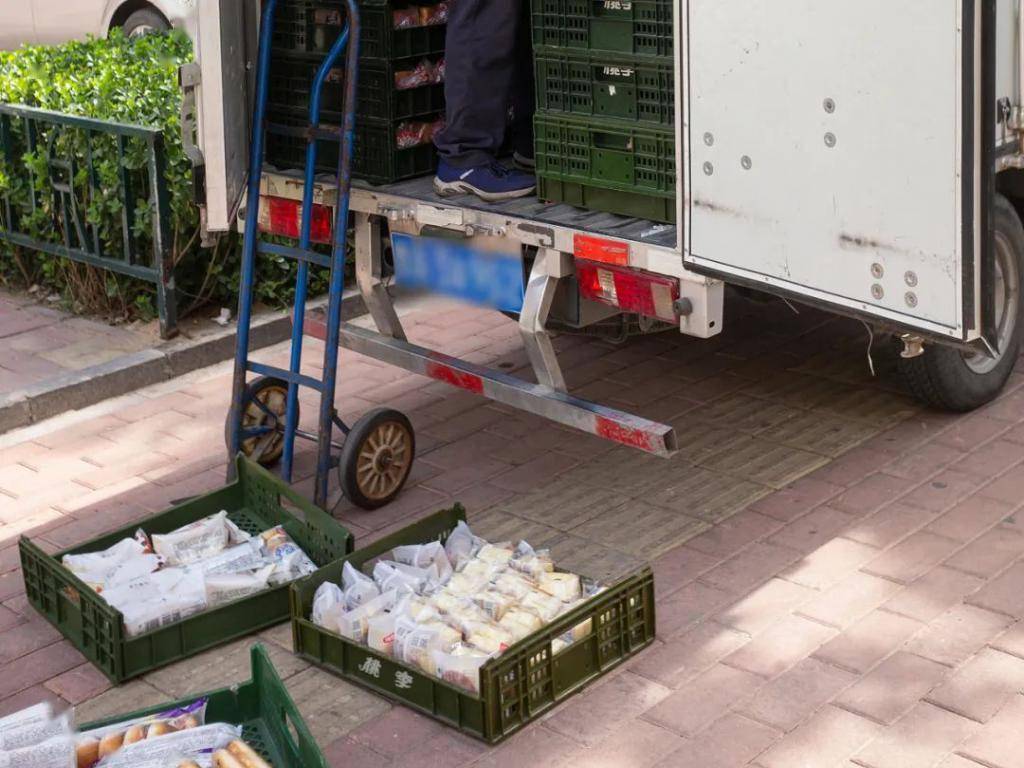 Peach plum bread small insulation delivery vehicle
Bread products can be roughly divided into short-term guarantee, medium-term guarantee, and long-term guarantee according to the length of the shelf life. Of course, different products have different characteristics, and manufacturers have different business models.
The products of peach and plum bread are mostly products with short shelf life. The shelf life of short-guaranteed bread is very short, generally 7-9 days in winter and 3-7 days in summer. Therefore, peach and plum bread mainly adopts the production model of "production based on sales", and the production plan is formulated according to market demand, and then the central factory produces uniformly. , And finally wholesale to supermarkets and distributors in a certain area.
This is the model that Taoli Bread practiced in the Northeast market in the early years, that is, the "central factory + wholesale" model.
This model is conducive to standardized production, and can reduce production costs through large-scale production. More importantly, it is easier to replicate when expanded, and it can be called an "accelerator" on the road to expansion of peach and plum bread.
Before it went public in 2015, Taoli Bread, which occupied the northeastern market, had also gained a firm foothold in North China. So after it went public, it began to go south and east, building a central factory while seeking cooperation with supermarkets. As of the end of 2020, Taoli Bread has established production bases in 19 regions across the country.
Tao Li Bread stated in its annual report that in 2020, the company will continue to increase its efforts to expand into new markets in East China and South China, increase investment in key customers, and improve the quality of individual stores. At the same time, it will continue to accelerate sales network in mature markets such as Northeast and North China. The work of transformation and sinking, tap the market potential, consolidate and expand the company's product market share.
From a regional perspective, the performance of Taoli Bread still depends on the "base camp" Northeast market.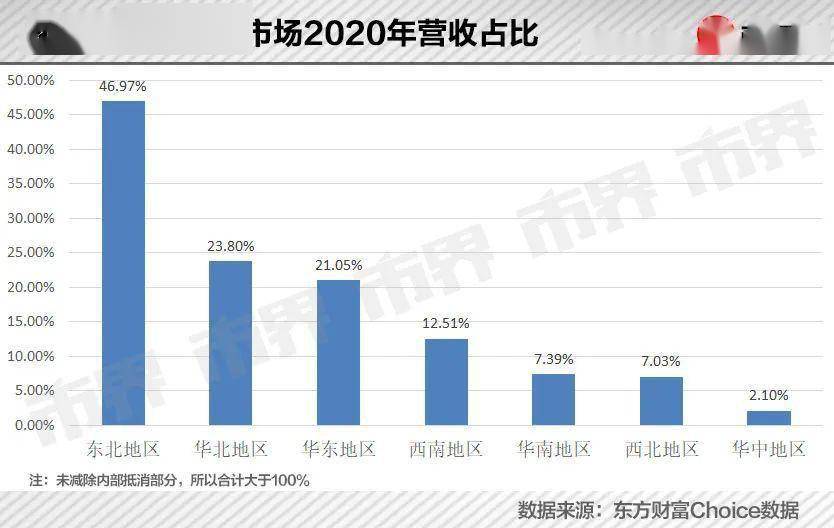 In 2020, the revenue of the Northeast market will still account for nearly half of the company's revenue. The second largest market is North China, and the third largest market is East China; Southwest China, South China, and Northwest China are followed, and Central China has the smallest income.
In fact, many of the descendants of companies located in East China, South China, and China markets are still losing money. Taoli Bread's annual report lists 37 major holding companies, of which 17 are at a loss-mainly in these three markets.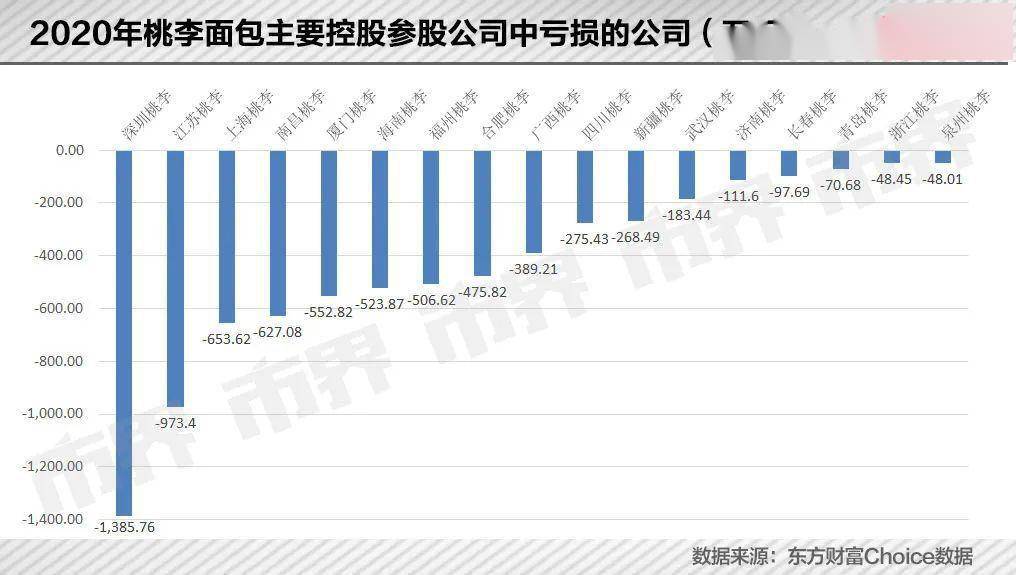 In 2020, Shenzhen peach and plum and Jiangsu peach and plum will lose 13.86 million yuan and 9.73 million yuan respectively; followed by Shanghai peach and plum, Nanchang peach and plum, Xiamen peach and plum, Hainan peach and plum, and Fuzhou peach and plum, with losses of more than 5 million yuan; Then there are Guangxi peaches and plums, Hefei peaches and plums.
In 2019, 20 of Taoli Bread's main holding and joint-stock companies were at a loss, with a total loss of RMB 73.57 million. In 2020, the 17 major holding companies that are in loss will have a total loss of 71.92 million yuan.
2020 is basically the same as 2019. The major holding companies with the worst losses are still in East China and South China.
From the perspective of the East China market, Shanghai peaches, Jiangsu peaches, Nanchang peaches, Zhejiang peaches, and Hefei peaches have long been losing money. For example, Shanghai Taoli, which was established in September 2000, started to lose money in 2018, with a loss of 1.2394 million yuan in the current period. In 2019, the loss expanded to 12.6882 million yuan and a loss of 6,536,200 yuan in 2020.
In the South China market, peach and plum bread is also difficult to blend in. For example, Shenzhen Taoli, which was established in 2015, suffered a loss of RMB 6,641,200 in 2018. The loss in 2020 has doubled.
In November 2020, Taoli Bread announced that according to the company's current actual operating conditions and subsequent business development plans, in order to optimize resource allocation and asset structure, reduce management costs, and improve operational management efficiency, it intends to cancel the company's wholly-owned subsidiary Nanchang Taoli and Jinan peaches and plums. In January 2021, after an announcement, Shenzhen Taoli was also cancelled.
South China, East China and other regions have always been important cities in the bakery industry, ranging from well-known domestic and foreign brands to local large and small brands, such as Dali Garden, Bimbo, Manchester, Yamazaki, Paris Baguette, Yuanzu, Christine, Bread Talk, Hollyland, Delicious, 85°C, and more unknowns. Whether it is bread, cakes, or pastries, the competition is getting fiercer.
There are also new tea brands such as Nayuki's tea that also make bread, and there are many other brands that do well online. This will also have a greater impact on the peach and plum bread that mainly sells supermarkets, convenience stores, commissaries and other channels.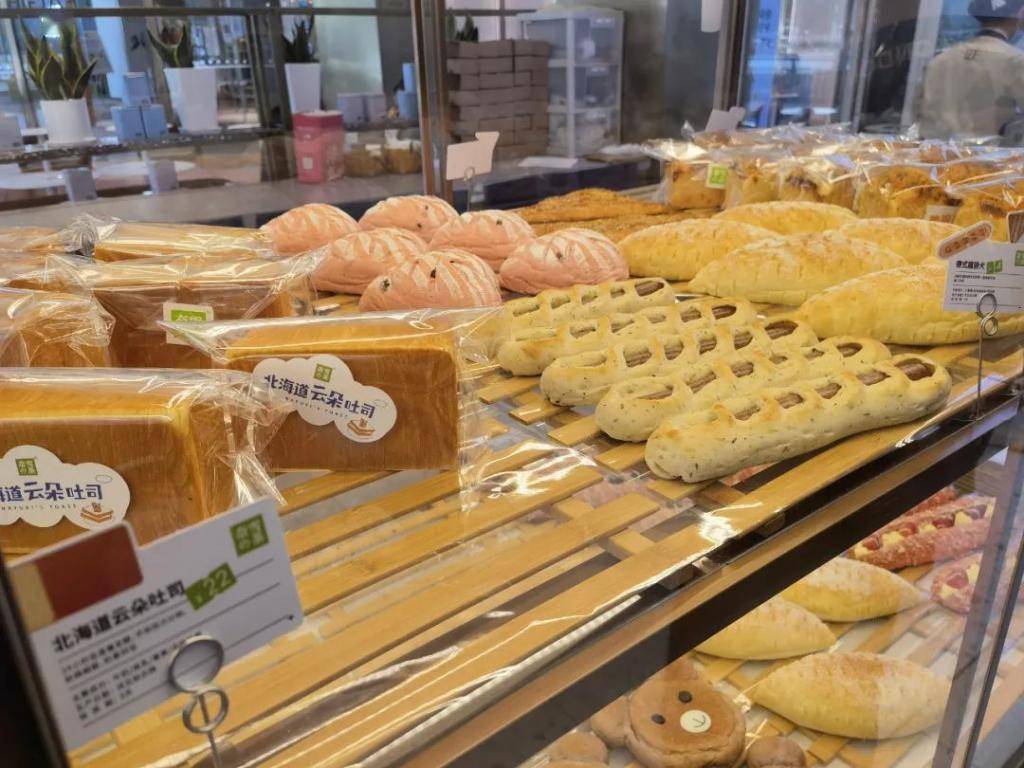 The baking industry has a low threshold, serious homogeneity, and a relatively fragmented competitive landscape. In 2019, the total market share of the top five brands in the industry was less than 11%, while the market share of Taoli Bread was only 3%.
According to the analysis of Zhongyuan Securities, scale and single product will help enterprises maximize their benefits in the initial development, but in the later stage, enterprises will encounter the problem of insufficient response to the market, and for peach and plum bread, there is also a lack of certain production flexibility.
Taoli Bread said that in the future, the company will further strengthen and make bakery products with bread and pastries as its core, steadily develop traditional holiday products such as moon cakes, and further enrich the company's product line. However, the pressure is conceivable.
At present, Taoli Bread's situation is not optimistic, the descendants of East China, South China and other regions have been unable to achieve profitability for a long time, and the performance growth of listed companies has also encountered problems. It is not easy for the sons to realize Wu Zhigang's dream of "all over the world".
Source: City Boundary Lei Yanpeng