Hello everyone! Welcome to" Shen Wan Sui Home Network 》I am Xiao Chen in Shenzhen
On the morning of June 10, the 13th Lujiazui Forum (2021), co-sponsored by the Shanghai Municipal People's Government, the People's Bank of China, the China Banking and Insurance Regulatory Commission, and the China Securities Regulatory Commission, opened in Shanghai.
At this forum, Guo Shuqing, Secretary of the Party Committee of the Central Bank and Chairman of the China Banking and Insurance Regulatory Commission, once again issued a severe warning on high-risk investments such as financial derivatives. He said:
In the case of financial derivatives where risks occurred in the previous period, a large number of individual investors participated in the investment. From the perspective of mature financial markets, institutional investors are mainly involved in financial derivatives investment, which is very unsuitable for personal investment and financial management. The reason is that, affected by a variety of uncontrollable or even unpredictable factors, the price of financial derivatives fluctuates greatly, which places high requirements on the professionalism and risk tolerance of investors.
The participation of ordinary individual investors is tantamount to gambling in disguise, and the result of the loss is already doomed. Those who speculate on foreign exchange, gold and other commodity futures will hardly have the opportunity to make a fortune, just as those who bet that house prices will never fall will eventually pay a heavy price.
In this passage, Guo Shuqing mainly warned individuals who speculate on the anticipation of RMB appreciation and the rise in commodity prices. Because these are the two major problems currently facing China.
There are very few ordinary people who really speculate in foreign exchange futures and commodity futures, and these people are indeed looking for a living on the tip of a knife. Instead, Guo Shuqing mentioned by the way that "people who bet that house prices will never fall will eventually pay a heavy price", which is worth analyzing.
Among the senior financial officials in China, Guo Shuqing is known for his "daring to speak". He basically talks about real estate several times a year, and he usually reminds him of risks.
For example, in August 2020, Guo published an article in the "Seeking Truth" magazine, stating that "the real estate bubble is the gray rhino that threatens financial security the most."
In December 2020, Guo published an article titled "Improving the Modern Financial Supervision System", proposing "resolutely curb the real estate bubble" and once again said that "real estate is the biggest gray rhino in terms of financial risks in my country at this stage." He also mentioned in the article: "Of the more than 130 financial crises in the world since the last century, more than 100 are related to real estate."
At the press conference held on March 2 this year, Guo once again pointed out: The core problem in the real estate sector is still relatively large bubbles, and the tendency of financialization to bubble is relatively strong. It is the biggest gray rhino in the financial system. Many people buy a house not to live, but to invest in speculation, which is very dangerous.
In short, Guo can be said to be "benevolent" and "benevolent" in reminding real estate risks.
According to the first quarter monetary policy implementation report of the Central Bank: At the end of March, the balance of real estate loans by major financial institutions nationwide was 50.0 trillion yuan, a year-on-year increase of 10.9%. Among them, the balance of personal housing loans was 35.7 trillion yuan, a year-on-year increase of 14.5%. Although the growth rate of these two types of loans has declined, they are still much faster than the actual growth rate of the economy.
So here comes the question: when Guo Shuqing said that "people who bet that house prices will never fall will eventually pay a heavy price", when will it be fulfilled? Which houses are risky and cannot be bought?
According to the seventh census, as of November 1, 2020, the urbanization rate of the permanent population in China has reached 63.89% (the urbanization rate of the registered population is 45.4%). In the past 10 years, the urbanization rate of the permanent population has increased by 14.2 percentage points.
In recent years, the urbanization rate of the permanent population has been advancing at a rate of about 1% per year. From the perspective of China's development stage, the urbanization rate of our permanent population peaks at around 70% to 75%. Calculated at 75%, there is still room for growth in about 12 years. Then, it will enter the "post-urbanization era".
In fact, as the urbanization rate of the permanent population exceeds 60%, urban population growth has begun to diverge, and the population will accelerate into large urban agglomerations and metropolitan areas in the future.
In the Northeast, Midwest and other regions, the fourth and fifth tier cities and market towns that are not in large urban agglomerations, metropolitan areas, and market towns will accelerate the loss of population.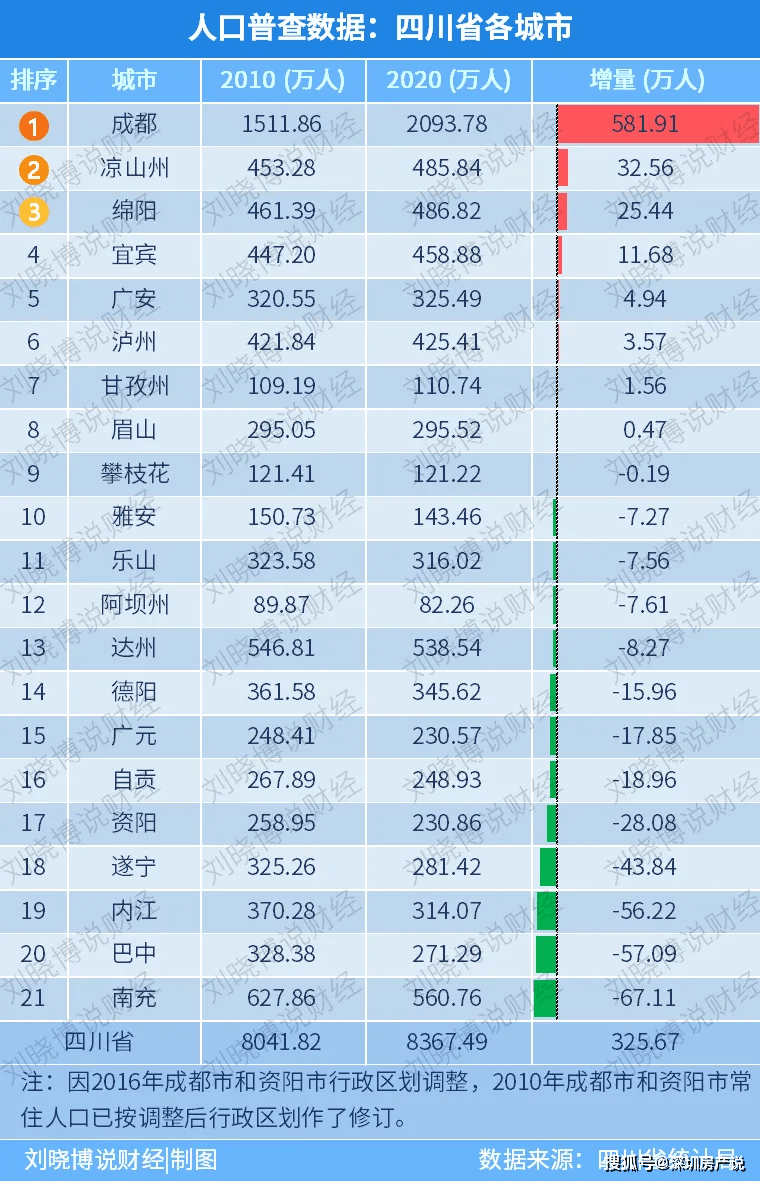 edit
edit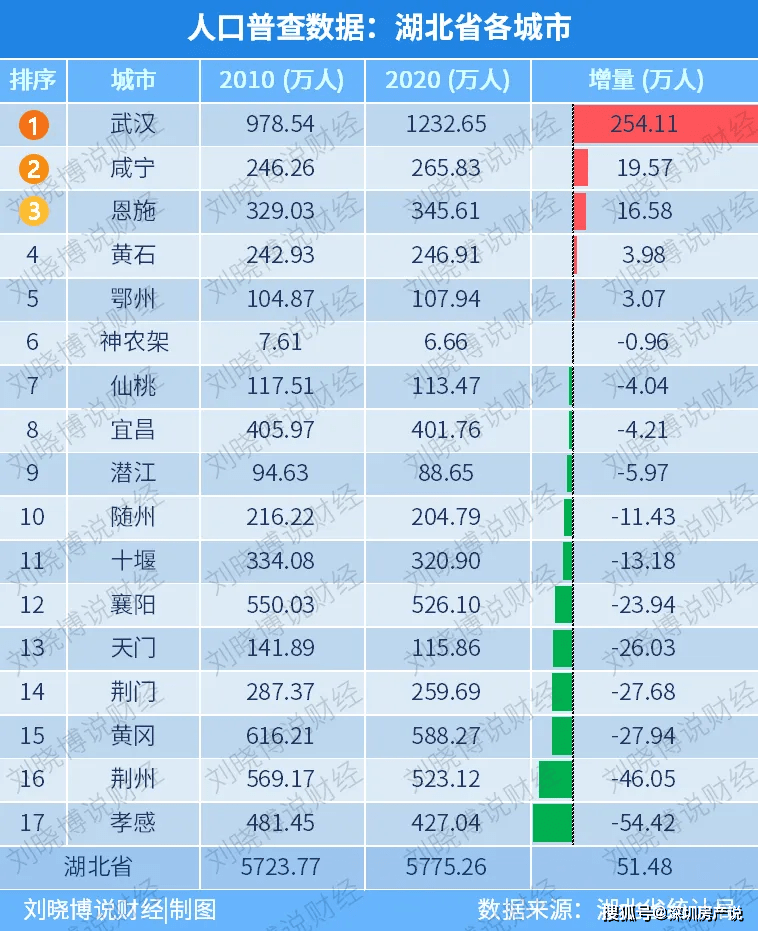 edit
Above: According to the seventh census data of Sichuan, Gansu, and Hubei, most of the prefecture-level cities and prefectures have lost their population.
I reminded everyone a few years ago: less than 20% of the cities in China (counting counties) have investment value, and more than 80% of the cities have low value or pits.
In areas with severe population loss, future housing prices may be money for "demolition and sale of construction waste". In some places, no one even collects construction waste for demolishing and selling construction waste.
Therefore, do not think that Chairman Guo Shuqing is alarmist, what he said is becoming a reality.
For example, the "Yumen Old City" we often refer to is a typical case of an abandoned city; as for Hegang, it is a case of an undisused but naturally shrinking city.
In April 2019, the National Development and Reform Commission put forward the concept of "shrinking cities" for the first time in the "Key Tasks of New Urbanization Construction in 2019". The National Development and Reform Commission pointed out that shrinking small and medium-sized cities should lose weight and strengthen their bodies, change their inertial incremental planning thinking, strictly control the increase, activate the stock, and guide the population and public resources to concentrate in the urban area.
What do you mean? This actually means that the "shrinking cities" with continual population losses will merge villages, towns and counties in the future to bring the population together.
During the adjustment of administrative divisions in the past two years, the state has merged some districts and counties with small populations and sluggish growth. For example, in June 2020, the state made the following adjustments to the administrative divisions of Yantai:
Penglai City and Changdao County were abolished, and Penglai District of Yantai City was established. The former administrative area of ​​Penglai City and Changdao County was the administrative area of ​​Penglai District. .
In other words, Changdao County has disappeared.
Changdao County has a land area of ​​only 56.8 square kilometers and a permanent population of more than 40,000. In 2013, there were 1,151 primary school students in Changdao County. By 2019, the number had dropped to 856, a drop of 25.6%.
Such a population size, of course, cannot support the structure of a county. Across the country, there are about 100 counties (or county-level administrative regions) with a population of less than 40,000.
Once a member of the National Committee of the Chinese People's Political Consultative Conference proposed to merge counties with underpopulated populations (such as less than 100,000 people). She gave an example in the proposal: a county has a permanent population of 30,200 in 2019, local fiscal revenues of 36.61 million yuan, and general public budget expenditures of 865 million yuan , There are more than 120 administrative and social organizations, and more than 6,000 financial support personnel.
The cost and efficiency of maintaining such a county are too high, and it is of little significance.
It is conceivable that if you buy a house in such a county town or in a market town below the county town, the future prospects must be very pessimistic.
In fact, even in first-tier cities, such as Shanghai's Chongming Island and Shenzhen's Yantian Dapeng, some remote and poorly-equipped real estates have not risen for a long time, making buyers want to cry. Not to mention the suburbs and new districts of fifth- and sixth-tier cities in the Midwest.
Remember one thing: houses that can be delivered by courier and takeaway, and houses that are not too hard to take a taxi are valuable.
If a real estate is not only difficult for you to take a taxi, but also difficult for take-out and express delivery, then this kind of house basically has no investment value, and even you do not want to live for a long time.
I used to tell readers in my articles that if you choose suburban or Xinpan real estate, there must be a subway within 800 meters, a shopping mall within 3 kilometers, and schools and kindergartens within 2 kilometers. Otherwise, try not to buy it. Of course, this is a higher requirement than being able to deliver food or express delivery.
In addition, cities that are not eligible to repair subways (light rails) generally have little investment value.
In short: Try to buy houses in high-level cities (and their metropolitan areas) that have a significant population increase in areas that the government attaches importance to, with better facilities.
Moreover, do not have the intention of short-term speculation, do not excessively increase leverage, and do not follow the evil path of holding a house or buying a house under the name. As long as you choose the right city and have a steady cash flow, your investment risk is very easy to manage and your future will be bright.
To learn more, please follow the WeChat public account: Shenzhen Wan Sui Home Network