Technology from the media / Uncle Ni
The first time I contacted Amazon was learning the "reverse work method" proposed by Bezos many years ago: first understand what the customer needs, and then reverse the operation. This theory runs through all aspects of Amazon's business management.
Obviously, Amazon Overseas Shopping knows what kind of cross-border good products Chinese consumers need most, and this kind of demand connection must be more professional and pure cross-border e-commerce services, which accurately match the supply and demand logic.
Cross-border online shopping is becoming a standard configuration for new consumption. In recent years, we have seen that all major domestic e-commerce platforms have their own cross-border e-commerce sections. This explains at least two trends: First, under the dual-cycle pattern, domestic consumers' demand for foreign goods is on the rise. Second, reliable cross-border online shopping channels are still scarce. The competition within this track is not simply a competition for "goods", but is essentially a competition for comprehensive service capabilities of "localization + internationalization".
Although the demand is real, an unquestionable reality is also in front of us: consumers' cross-border online shopping behaviors prefer vertical cross-border e-commerce platforms. The international sector of integrated e-commerce platforms still has a long way to go.
It is precisely because of this that Amazon has captured a natural opportunity in the battlefield of domestic e-commerce giants in the battlefield of the pure global cross-border online shopping e-commerce platform for Amazon overseas purchase.
At 618 this year, domestic e-commerce companies are playing hard. Amazon chose to simultaneously open Prime Membership Day in 20 countries around the world in 621. This is also the 5th Prime Membership Day for Chinese buyers, with as low as 30% off and a 64-hour global cross-border online shopping scan for consumers to take over. 618's baton, continue to buy, buy and buy.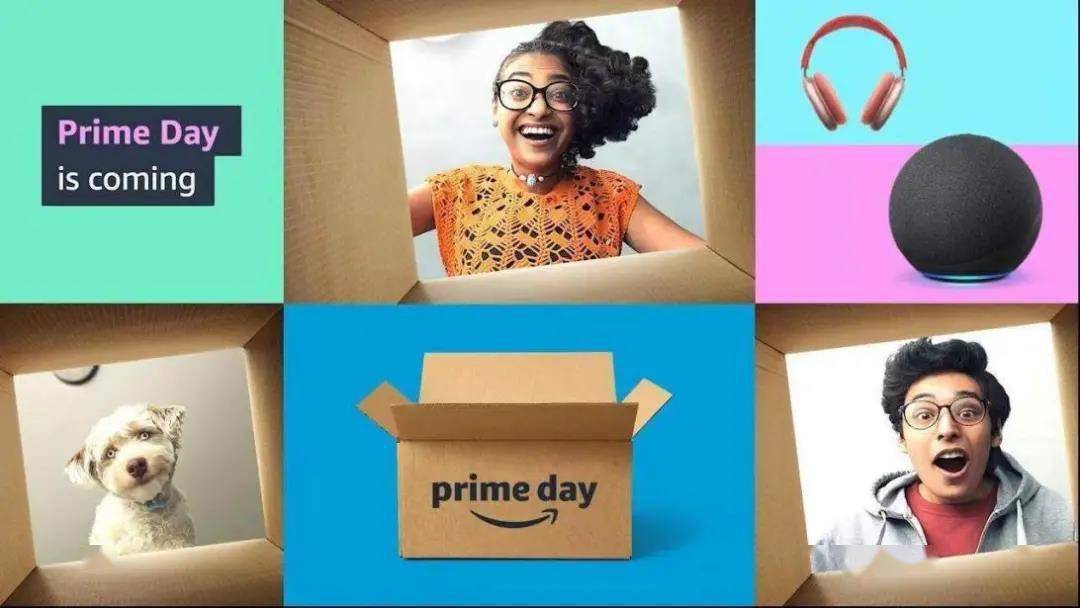 Regardless of PK or relay, in fact, Prime Member Day does not directly compete with 618 and Double 11, because in many aspects, the unique logic of Amazon Prime Member Day is not the same as the latter two.
1
Differences in Prime Member Day
At first glance, Prime Member Day, 618, and Double 11 are all online shopping spree, but if you look closely, in fact, Prime Member Day is essentially different from 618 and Double 11.
First of all, the positioning of Prime Membership Day is different. It is a global e-commerce carnival with a larger scope and longer commodity circulation links, which can be understood as a staggering of N outer cycles. This is not difficult to understand. As a global cross-border e-commerce platform, Amazon's supply chain logic is "sell the world globally." In comparison, the focus of domestic e-commerce platforms is on the internal circulation, such as national trendy products, emerging brands, sinking markets, and so on.
Secondly, Prime Member Day has more cross-border online shopping games, more categories, and more fun from a global perspective. On the one hand, Amazon's global supply chain advantage has its own exotic flavor, regardless of the source of goods, category, and brand have pure origin characteristics. On the other hand, it's an old truth that things are precious. Prime member day starts on June 21 (China opens at 23:00 on June 20 due to time difference), which lasts for 64 hours, and offers a concentrated discount cross-border online shopping experience. It is bound to be more attractive to "grab".
Prime member day itself also introduced more innovative gameplay. For example, it launched a unique global promotion synchronization technology, allowing consumers to enjoy the real-time cross-border online shopping experience of "same source, same inventory, and same discount" on the four major overseas sites in the United States, Britain, Japan, and Germany; the third-generation "smart size assistant" ", the granularity of size matching has been increased from "brand category" to "single selection", bringing consumers an overseas shopping experience comparable to "real-life shopping guide"; in terms of product and promotional information recommendation, a customized information waterfall has been built Stream, use the deep convolutional neural network to accurately perceive user preferences, and integrate the information waterfall flow into discount information such as "Treasure of the Town", "Seckill" and shopping theme recommendations.
Innovation brings a unique and differentiated experience. From an objective point of view, domestic consumers have passed 618, followed by 621, which complements the dual-cycle consumption pattern of "inner circulation + outer circulation".
2
One more choice for new consumption
What is more worthy of discussion is actually this kind of value: Amazon's overseas purchases give new consumers an additional choice.
The first is the shopping experience. The pure cross-border online shopping experience is different from domestic e-commerce shopping. In addition to the scene experience brought about by the above technological innovations, a more differentiated experience depends on Amazon's insight into the characteristics of domestic consumers' cross-border online shopping needs. As Li Yanchuan, vice president of Amazon China, said: "Facing the more diversified and personalized cross-border online shopping needs of Chinese Prime members, during this year's membership day, we will provide more exclusive products and more value-added offers. And a more convenient shopping experience, bringing a fully upgraded Amazon Prime membership day online shopping feast."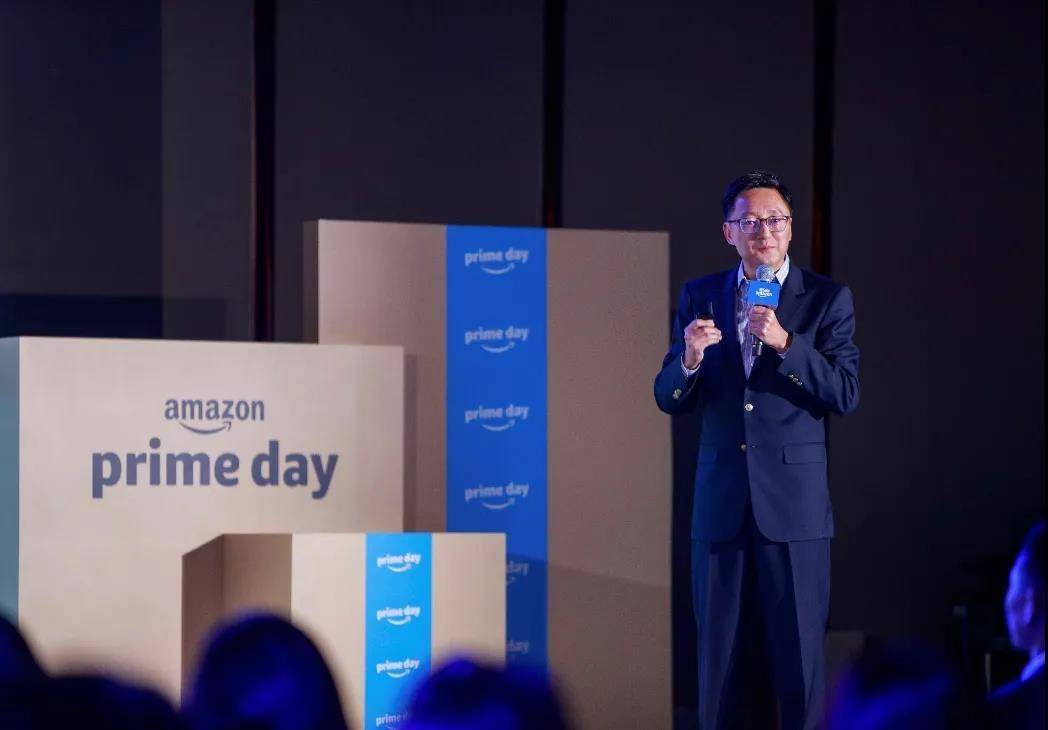 The second is the service innovation of Prime Member Day itself, which not only meets the new needs of consumers, but also reflects the evolution of Amazon's overseas purchase service capabilities.
China's Prime Membership Day will start at 23:00 on June 20th with Amazon Japan, and will end at 15:00 on June 23rd with Amazon America.
During these 64 hours, Chinese Prime members will have exclusive privileges for Prime members from Amazon's four major overseas sites in the United States, Britain, Japan and Germany, as well as 21 customized surprise discounts specially created for Chinese consumers. Log in to z.cn/primeday or download the Amazon mobile app, or search for the WeChat applet of Amazon overseas purchases. New users can enjoy full discounts and participate in the global carnival of Amazon Prime Member Day.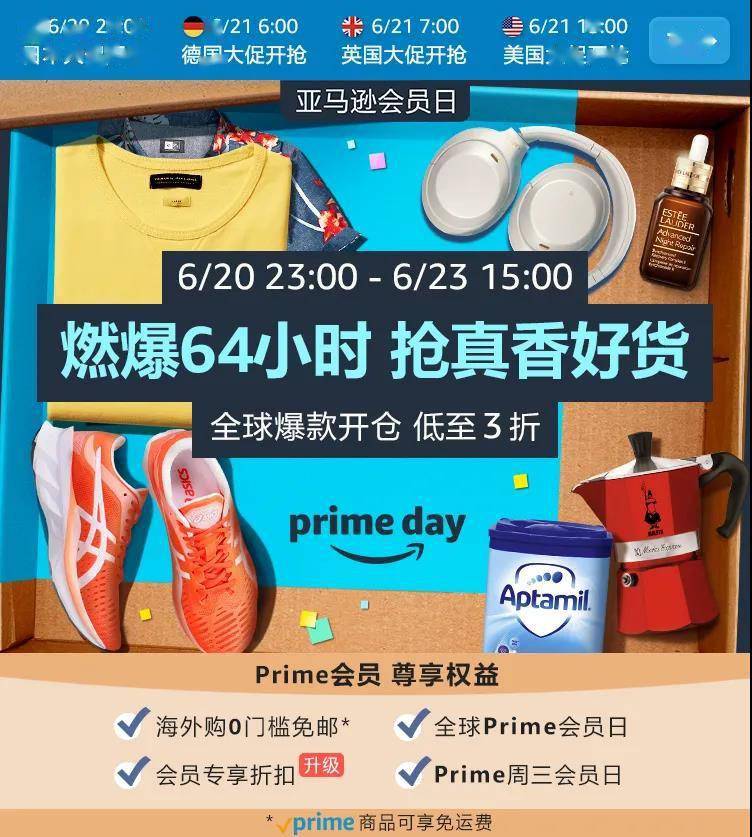 At the same time, China's Prime members' cross-border free shipping rights have been continuously upgraded. Prime members can enjoy unlimited cross-border free postal services with zero threshold. Non-Prime member users can enjoy cross-border free postal services with a single order of 300 yuan or more. In addition, relying on Amazon's world-leading mature logistics system and the innovative layout of cross-border front warehouses, it has now supported the fastest 3 working days of service in some cities across the country during the membership day. During the Prime Membership Day in 2020, it set a record for the fastest cross-border logistics distribution that took only 1.7 working days.
This logistics delivery speed not only kills many overseas market logistics services, but also matches the domestic speed, which means that Amazon China has established a deep business advantage with "global supply chain + localized services in China".
Finally, the essence of new consumption lies in "new", new experience, new link, and new hope. Amazon's overseas purchases have made the competition for new consumption one more choice. This is a differentiated competition. It may be a dimensionality reduction in service capabilities, or it may not, but it is not the same.
For the new consumer demand of "diversified and individualized", "different" itself is the most important value.
Amazon has launched a Prime membership service tailored specifically for Chinese consumers in China. It is also Amazon's first global membership service that supports unlimited free delivery of cross-border orders throughout the year. In addition to Prime member day and cross-border free shipping rights, Prime members in China also enjoy a series of member exclusive rights such as Prime Wednesday member day, member exclusive discounts, and accelerated delivery.
A different Amazon China brings a different cross-border shopping experience to Chinese consumers. This is the obvious value.
The imagination behind this value lies in the fact that when "service capabilities" are constantly localized, such as express delivery becoming more and more timely, Amazon China Prime Membership Day may really become a new pole beyond 618 and 11.11.
We say that the successful model has the possibility of unlimited replication, and this kind of localized super service capability based on the global supply chain is also possible. This means that this model is very likely to be replicated indefinitely on the membership days of countries around the world. Come true, Prime Member Day will be the only cross-border online shopping at this level of global vision.