Leju Finance Deng Xinni from Chongqing
In less than a month, Anhui Chenghe Property "changed ownership" again. This is the fifth time it has changed hands.
On June 11, Caixin Real Estate Development Group Co., Ltd. ("Caixin Development", 000838.SZ) stated that it would acquire 100% of Anhui Chenghe Property Service Co., Ltd. ("Anhui Chenghe Property") for 198 million yuan. Equity.
In fact, this time, Anhui Chenghe Property is not a real "change of ownership", it still belongs to Lu Shengju's Caixin Group, but moved from the property sector to the real estate at par. This is contrary to the current practice of real estate splitting and listing properties, and this move also means that the previous speculation about Caixin Property's re-listing in a shell fell through.
Chongqing Caixin Property Management Co., Ltd. ("Caixin Property") and Caixin Development, which were just registered and established on April 26, belong to Chongqing Caixin Real Estate Development Co., Ltd. ("Caixin Real Estate"), which originated from Chongqing Merchants. Lu Shengju's industrial map.
Within 15 days of the establishment of Caixin Property, it has successively invested in three property enterprises, which also constitute all of its assets. Anhui Chenghe Property is one of them. It only took more than a month for Anhui Chenghe Property to acquire it, and then transferred it to the brother company Caixin Development.
"Taking this as an opportunity to cut into the property industry, but also to improve the profitability of listed companies." Putting Anhui Chenghe Property into a listed company, Lu Shengju used properties to save the performance of Caixin Development.
The announcement mentioned that the follow-up will continue to invest, and strive to become a market-oriented third-party property life service provider. Property has become a "life-saving straw" for Caixin Development outside of real estate. According to industry insiders, Caixin Development will also plan to acquire a controlling stake in Caixin Zhifu or Caixin Property in the future.
Property relocation
Lu Shengju seems a bit eager to move property assets this time. Caixin Property was established in less than two months, and it took over Anhui Chenghe Property for only one month. The deep integration of the business may not be discussed, so it moved to Caixin Development. The most direct reason is the performance of Baocaixin Development.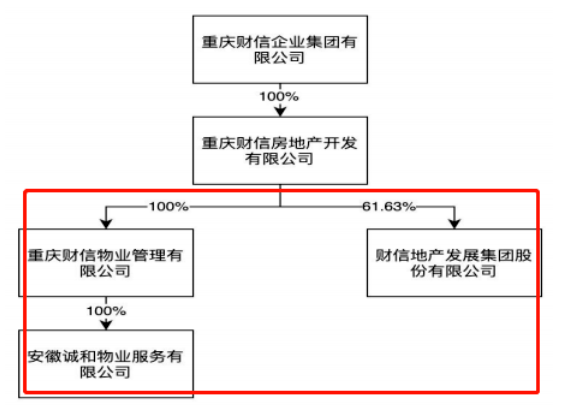 On May 7, Caixin Property purchased 100% equity of Anhui Chenghe Property from another buyer. Before Caixin Property, Anhui Chenghe Property had three rounds of buyers, and it was transferred to Caixin Development, and it was already the fifth round of buyers.
Since the transfer of the entire equity of Anhui Chenghe Property to Caixin Property Management was relatively close to this transaction, the assessment result of the previous transaction was used and the transfer was made at a fair price. The estimated value corresponding to 100% equity of Anhui Chenghe Property is 20,095,100 yuan, and the purchase price determined through negotiation is 198 million yuan.
Although it has changed owners many times, the scale of development of Anhui Chenghe Property is still considerable. As of the end of March this year, its contracted management area totaled 15.68 million square meters, and its main business was property service management and community integrated services. Now it has 1 subsidiary (Hefei Ningju Property Management Co., Ltd.), 18 branches, and 45 existing projects.
"After this transaction, the listed company will inject property service assets with certain profitability to improve the profitability of the listed company." It is natural for Lu Shengju to make a profit from purchasing property assets at a price of nearly 200 million yuan.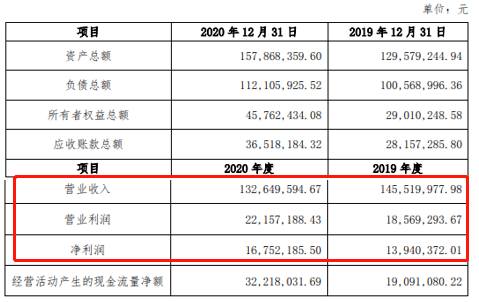 In the past year, Anhui Chenghe Property's profitability has improved, and operating cash flow during the same period has also boosted a lot. Although revenue declined last year, profits and net profit achieved considerable growth. In 2020, operating income was 130 million yuan, a year-on-year decrease of 9.1%; while operating profit and net profit were 22.157 million yuan and 16.75 million yuan, up 19.3% and 20.2% year-on-year respectively.
In addition, operating cash flow inflow was 32.218 million yuan, which expanded the total assets and owners' equity. As of the end of 2020, the total assets of Anhui Chenghe Property was approximately 158 million yuan, a year-on-year increase of 21.8%; the owner's equity in the same period increased by 57.7% to 45.76 million yuan.
Real estate management encounters obstacles
It is not the first time for Lu Shengju to use real estate to "rescue" real estate.
On December 18, 2020, Caixin Real Estate pledged all the equity of Caixin Smart Service, another property operator, to Shanghai Kaihui Architectural Design Co., Ltd. for a pledge amount of 200 million yuan. Up to now, the pledge of the equity is still in an "effective" state.
The "in" of the asset transfer this time is completely different from the "out" of the previous equity pledge, but both bring the business situation of the financial and information development to the bright side. At present, the main business of Caixin Development is real estate projects and environmental protection business. As of the end of last year, its revenue was 5.955 billion yuan and 754.2 billion yuan, accounting for 98.4% and 1.25% of total revenue respectively.
However, after joining the property, capital does not seem to buy it. After the announcement of the acquisition at noon on June 11, its share price has been falling after a short surge.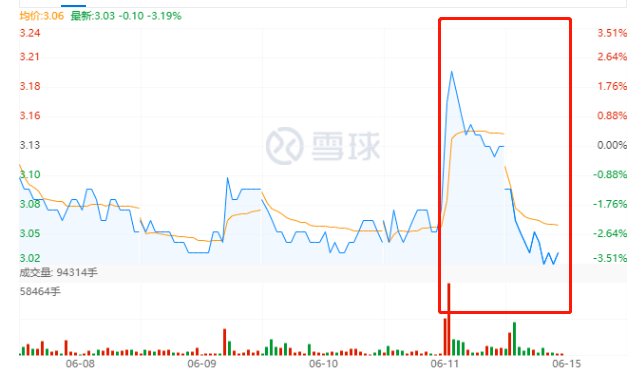 At 13:10 on June 11, the stock price of Caixin Development rose straight up, reaching its peak in the past five days, at 3.2 yuan per share. The "collapse" of the stock price was also very rapid, closing at 3.13 yuan per share that day, which was nearly 2.2% lower than the highest value. After three days of market closure, it failed to "calm down". As of 11:30 on June 15th, the stock price was 3.03 yuan, down 3.19% from the close of the previous trading day.

At the same time, the financial situation recently announced by Caixin Development is also not ideal. Revenue in the first quarter of this year has increased significantly compared to previous periods, but the net profit attributable to shareholders of listed companies has fallen. Over the same period, operating income increased by 210.71% to 500 million yuan, while the net profit attributable to the parent company lost 29.87 million yuan, a negative growth of 6.37% year-on-year.
And since 2018, the debt ratio of Caixin Development has been maintained at around 84%. In 2020, its total debt will hit a record high, reaching 15.262 billion yuan.
Backdoor listing tide
Compared with the spin-off of the property for listing, it is faster to put the property directly into the listing body. Not only the development of financial information, this has become a tacit thing for many small and medium-sized real estate enterprises.
Lu Shengju first "changed the shell" and then "backed the shell", and the property sector also entered the listing in disguise.
On April 26, Lu Shengju re-established Caixin Property and regained the name of "Caixin Property" after renamed "Chongqing Caixin Property Management Co., Ltd." to "Caixin Smart Life Service Group Co., Ltd.".
Within half a month of its establishment, Lu Shengju filled in a lot of assets. On May 7, Anhui Chenghe Property was incorporated into Caixin Property. At the time of the front and back, Caixin Longshuihu Property and Caixin Smart Life Service joined in succession.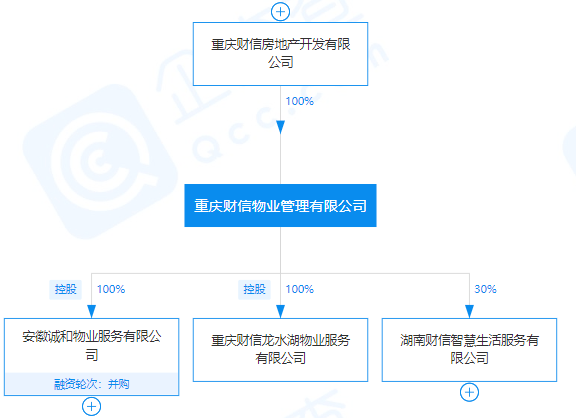 With the introduction of Caixin Smart Services into the branch of Caixin Property, many people speculate that the "shell" of the property company that Lu Shengju has promoted on the capital market may have changed from Caixin Smart Services to Caixin Property.
Unexpectedly, just over a month after the "shell swap", Lu Shengju had plans to dismantle the assets of Caixin Property. Transfer one of the three originally few companies to the financial and information development of a listed real estate company. If the acquisition is successful, its property sector can be regarded as entering the capital market.
"The listed company will use this acquisition as an opportunity to enter the property industry and expand the property management business. It plans to continue to invest in the future and strive to become a market-oriented third-party property life service provider with a certain degree of competitiveness and influence." Later, Lu Shengju returned More energy will be put into operation.
Compared with the "step-by-step" approach of splitting and listing properties, the "backdoor" approach of using Caixin Development's "old bottle" to fill the "new wine" of Anhui Chenghe Property on the "backdoor" listing is more "time-saving".

According to incomplete statistics, there are currently four companies that have been backdoor listed or have plans to do so, namely Huafa Property Services, Fangyuan Real Estate Service Group, ST Bus and Caixin Development.
They have different ways of obtaining property assets, either through acquisition or through donation by others. The purpose of injecting the concept of property is also different. Some are to promote the listing of the property, while others are to "protect the shell" and put the property into it.
Among them, Huafa Property Services has completed a series of operations of backdoor and name change, and officially announced the listing of the property. In other companies, property is only one of the businesses.
Article source: Property K-line