According to monitoring data, during the Dragon Boat Festival, Changchun City's important daily necessities market has sufficient supply of supplies and smooth circulation channels, which can fully meet the consumer needs of the citizens. Compared with last Monday (June 7), today's grain, oil and fruit prices are stable, pork and mutton prices are falling, other non-staple foods are basically stable, and vegetable prices are mainly falling.
Grain and oil prices are stable
The average price of rice was RMB 2.74 per 500 grams (the same below), and RMB 2.16 for flour, which was the same month-on-month; barreled soybean oil (5L) was RMB 64.00, which was the same month-on-month.
Pork prices continue to fall
Pork was 12.56 yuan, down 5.99%, and mutton was 42.20 yuan, down 3.21%. The prices of other non-staple foods were basically stable.
Vegetable prices are mainly falling
The monitored 12 key vegetables decreased by 1 and increased by 6 from the previous month. Cucumber decreased by 8.70%, beans decreased by 22.92%, leeks decreased by 8.70%, and other varieties fluctuated slightly. The reason for the large drop in the price of beans is the change of varieties.
Fruit prices are stable
Apple was 5.20 yuan, banana was 4.10 yuan, and pear was 4.60 yuan, unchanged from the previous month.
During the Dragon Boat Festival, we strengthened inspections of important livelihood commodities closely related to people's lives and festival consumption. From the monitoring situation, the supply of important livelihood commodities in Changchun City is sufficient, and prices are stable and declining. Compared with the pre-holiday season, the monitored 25 varieties decreased by 9 and increased by 15 and increased, among which pork and some vegetable varieties decreased significantly.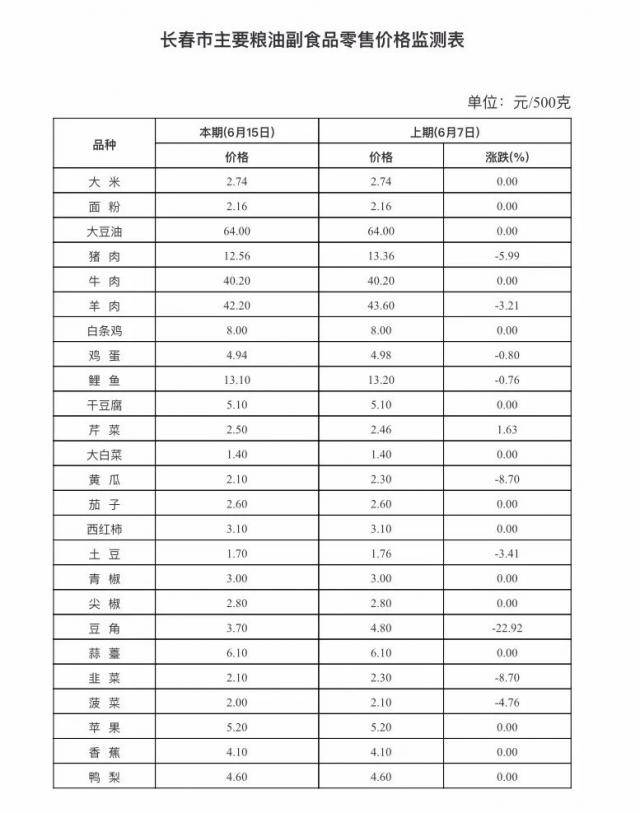 Source: Changchun City Development and Reform Commission website
Editor: Wang Qi
Final review: Feng Yan