Smart things (public account: zhidxcom)
Compile | Jian Teng Edit | Yunpeng Wisdom News reported on May 24 that the US media HC (Huawei Central) recently revealed that Huawei will develop a 3nm chip, which is expected to be released in 2022. The rumored 3nm chip is temporarily named "Kirin 9010", and it will be used in Huawei's high-end mobile phones and tablets.

1. How high is the level of 3-nanometer chips? At present, Apple, Qualcomm, and Intel have mastered the most advanced chip research and development technology, while TSMC and Samsung represent the highest level of chip manufacturing. At present, the highest level of chips has crossed from 7nm to 5nm, and is moving towards 3nm. The chips using 7nm process are Apple A13, Snapdragon 865, Kirin 990, while A14, Kirin 9000 (including Kirin 9000E), and Snapdragon 888 are 5nm chips. According to rumors, the 3nm Kirin 9010 currently being developed by Huawei represents the highest level of the chip industry. 2. Kirin processor, application for registration Tracing the sources of HC and other media, you will find that the source of this information comes from the country.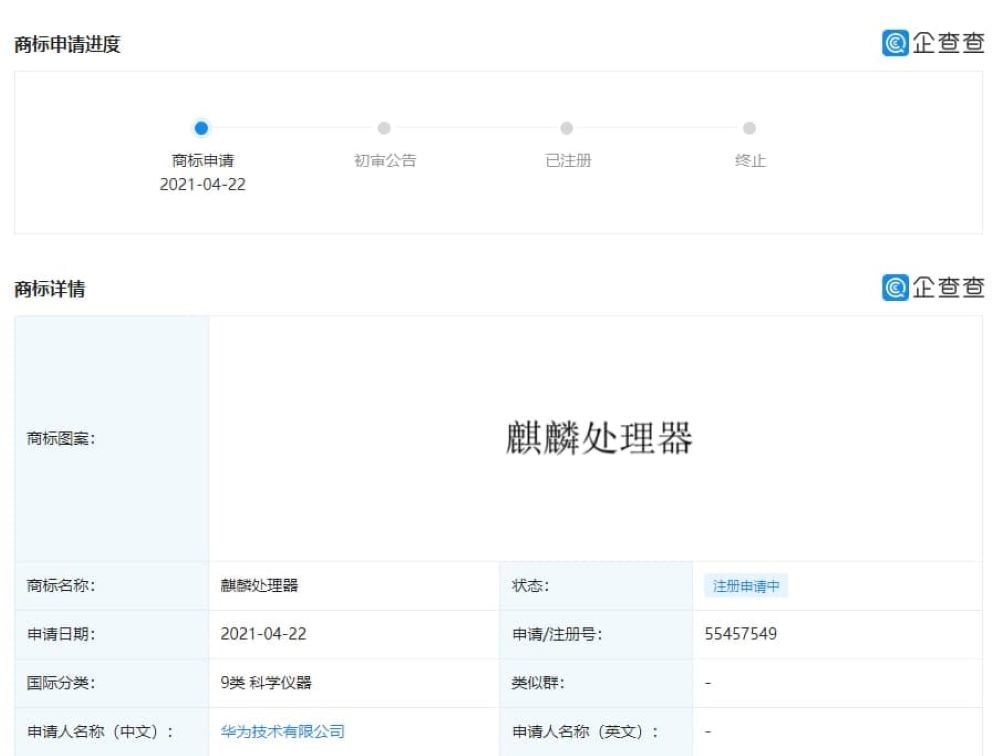 The picture shows that Huawei Technologies Co., Ltd. applied for trademark registration of the Kirin processor on April 22. Kylin processor belongs to "9 scientific instruments" in the international classification, and its registration number is 55457549. This shows that Huawei mobile phones have not lost hope of returning to the market, HC commented on this. There is news in China that Kirin 9010 does not adopt the latest ARM V9 architecture, but instead adopts the ARM V8 architecture. Huawei's familiarity with the V8 architecture allows it to further ensure the stability of the chip, while increasing the core and independent NPU will strengthen the performance of the Kirin chip. In addition, the Kirin 9010, like the current Kirin 9000, adopts a built-in 5G communication baseband. 3. R&D, not mass production It is believed that the rumored 3nm Kirin 9010 chip will be completed by the end of this year. In terms of manufacturing, currently only TSMC can manufacture 3nm chips in the world, and this manufacturing capacity has not yet reached the level of commercial use. In view of the sanctions imposed on Huawei by Western countries led by the United States, Huawei was unable to place chip orders to TSMC. HC said that repairing the relationship with the United States will be the key to Huawei's mobile phone promotion work. Although the production of the Kirin 9010 is rumored to be difficult, its research and development is still necessary. Huawei's rotating chairman Xu Zhijun once said that Huawei currently has no profitability requirements for HiSilicon. Although there is no place to process HiSilicon chips, Huawei will always keep this chip team and keep it moving forward. Concluding remarks: Where is the way forward for Huawei, which is "lack of cores" Since the United States announced sanctions on Huawei, Huawei has been ill-fated. Huawei's mobile phones quickly fell to the altar, with an annual shipment of over 240 million units during its peak period and a brilliant domestic market share of over 39%. No one knows the suffering of "core shortage" better than Huawei. Where is the future development of Huawei's mobile phones? In addition to independent research and development of chips, it is also vital that all industrial chains in the United Nations jointly overcome the difficulties of chip manufacturing. Source: Huawei Central