Six months ago, Tianwei Food was still the sweet pastry of capital, but now it has fallen all the way down.
Since the beginning of the year, the stock price of Tianwei Foods has been falling. The stock price once reached 68 yuan, but now it has fallen to 28.4 yuan, a drop of about 58%, and its market value has fallen by more than half. The rolling price-earnings ratio of over 100 six months ago is now only 58.4.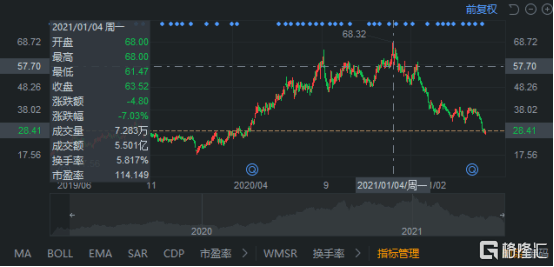 A few days ago, the three executives and shareholders of Tianwei Foods reduced their holdings of 928,600 shares of the company, which did not exceed 0.1228% of the company's total share capital. Tianwei Food plunged 10% immediately. This wave of shareholding reductions triggered market speculation, and even the executives of Tianwei Foods are not optimistic about their company. What happened to Tianwei Food, which rose by about 253% last year?
Performance fell short of expectations
In 2020, Tianwei Food's business was 2.365 billion yuan, a year-on-year increase of 37%; the net profit of the parent company was 360 million yuan, a year-on-year increase of 22.7%.

In 2020Q4, Tianwei Food's performance has seen a significant decline. Operating income is only 845 million yuan, and the growth rate has dropped to 29.31%, which is far lower than the growth rate of 80.73% in the second quarter and 35.13% in the third quarter. The net profit attributable to the parent decreased by 56.54% year-on-year. Behind the substantial decrease in net profit attributable to the parent is high marketing expenses and management expenses, which accounted for 28.8% and 12.2% of the fourth quarter's revenue respectively.

The hot pot bottom material industry has a low threshold, and market competition has always been fierce. Relevant data shows that in 2019, the top five hot pot bottom ingredients brands in my country's hot pot bottom material industry are Yihai International, Tianwei Food, Hongjiujiu, Red Sun, and Dezhuang. The market shares of these major hot pot bottom material companies are not much different, all of which do not exceed 10%.
In addition to these companies specializing in hot pot ingredients, companies in the condiment market also hope to get a share of the hot pot market ingredients. Among them, the veteran condiment company Haitian Flavour launched the Haitian brand hot pot base ingredients in August 2020, and said it will accelerate the development of new categories such as hot pot base ingredients to form a new growth point in the future.
In order to cope with fierce market competition, Tianwei Foods has launched a "dual brand" strategy. Its "Dahongpao" brand is positioned at the affordable end of the mass market, while the "Good People" brand is positioned at the mid-to-high end, focusing on household consumption. On the one hand, the dual-brand strategy can cover as many consumers as possible; on the other hand, under fierce market competition, competing for the mid-to-high-end market can win more profit margins for Tianwei Food and avoid falling into low-end market price wars. Vicious competition. Tianwei Food hired traffic star Deng Lun as the brand spokesperson for "Good People" and titled the variety show "If You Are the One", hoping to open up the mid-to-high-end hot pot bottoms market.
In addition, Tianwei Foods has also worked hard to expand sales channels. As of the end of 2020, Tianwei Foods has cooperated with more than 3,000 distributors, and 1780 new distributors have been added throughout the year. Channel sales have increased by 40%. The company's management expenses have also increased.
Hot pot bottom material track is cold winter
I have to say that Tianwei Food has worked very hard, but hard work still cannot reverse its decline. The financial report for the first quarter of this year showed that the net profit growth rate of the parent company was 4.13%, which continued to be under pressure, and the stock price naturally fell all the way.
In fact, it is not only Tianwei Foods that suffered a sharp drop in stock prices in the hot pot bottoms industry. The hot pot soup boss Yihai International has not had a good time in the past six months. Since the beginning of the year, Yihai International's stock price was 139.9 yuan at its peak, but now it has fallen to 53.3 yuan, a drop of about 62%, and its total market value has dropped by about 91 billion.
The downstream hot pot restaurant market is not optimistic either. Haidilao's stock price was 85 yuan at its peak, and now its stock price has fallen to 39.1 yuan, a 54% drop; Xiabuxiabu's stock price has fallen from its highest value of 25.4 yuan to 8.5 yuan, a drop of 67%; Jiumaojiu's stock price has dropped from its highest value of 37.7 yuan. It fell to 28 yuan, a drop of 25.7%.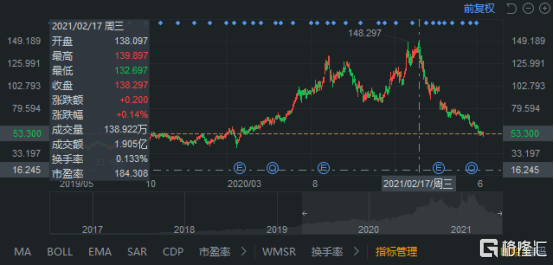 The overall hot pot market has been falling and falling together. The weak consumer demand since the epidemic is not on the one hand, and the performance is not as good as the expected institutional capital to leave the market to kill the valuation bubble and squeeze the bubble on the other.
The weak demand in the hot pot market is affecting the upstream hot pot bottom material market. Haidilao, which has always been known for its high turnover rate, has an annual turnover rate of 4.9 times per day from 2017 to 2019. After the epidemic, in 2020, Haidilao's turnover rate was 3.5 times/day, a year-on-year decrease of 1.3 times/day. In April of this year, Haidilao's rate of overturning was reduced to less than 3 times per day.
The consumption power of the market has not recovered as expected. Looking at the year-on-year trend of China's social retail sales in the past 10 years, it can be found that since March 2020, the year-on-year growth rate of CPI has been negative. In April this year, China's total retail sales of consumer goods increased by 17.1% year-on-year, which was far behind the expected growth rate of 25%.
The impact of the new crown epidemic on consumer demand has not subsided, and people's confidence in future economic growth and income expectations are still conservative. Especially in the catering market where consumer tastes change, it is still unknown whether the hot pot industry can retain consumers' hearts and reproduce the lively scene of the past.
Since last year, inflation has brought about rounds of structural market after another. On the track of hot pot, institutions are grouped together and hot money is pouring in. However, the market is often used to voting with their feet. The performance is not as good as expected, and it is natural to blame for being abandoned by capital. When the monetary policy is slowly tightening and the stock market pulls back, it is inevitable that the stock price will fall sharply.
Conclusion
The stock price has plummeted by over 60% in half a year, and it is estimated that Tianwei Foods is not in his heart. Consumer demand does not see a clear recovery momentum, the Fed's recent interest rate policy is still unclear, and it is hard to say how long it will last for Tianwei to fall.