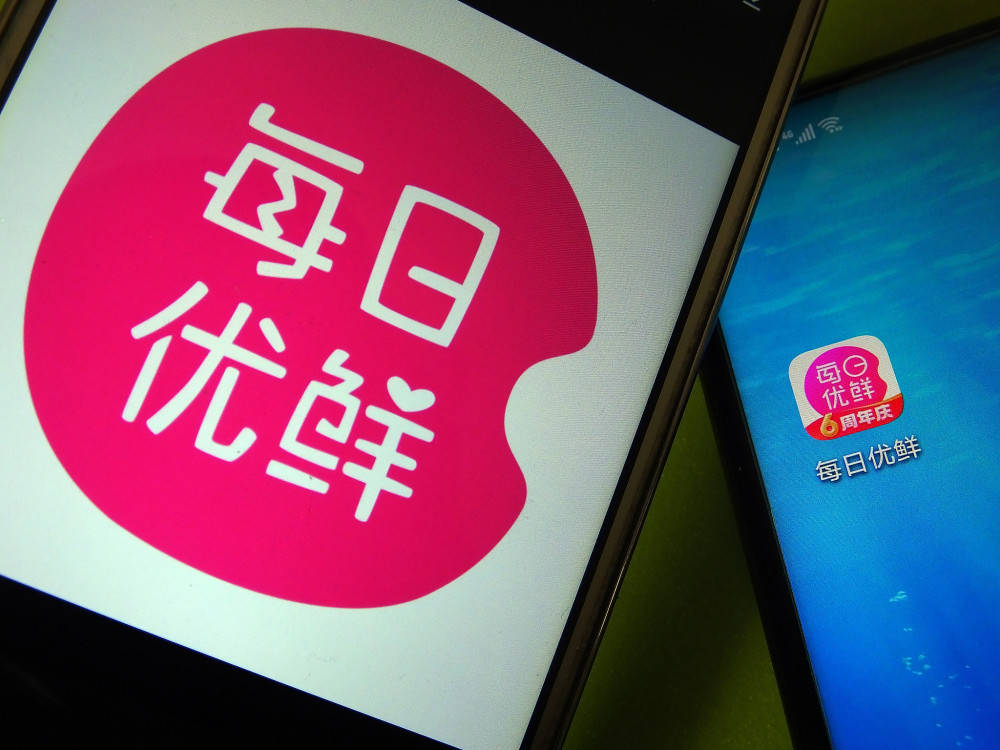 Produced | Sohu Technology
Author | Yin Lina
In the morning of June 9, Youxian submitted its prospectus every day, formally sprinting for the IPO of US stocks.
The Daily Fresh Food Plan uses "MF" (abbreviation of the English name MissFresh) as the stock code and is listed on the Nasdaq. The tentative maximum fundraising amount is 100 million US dollars, and it launches an impact on the "first share of fresh food e-commerce" .
Daily Youxian is an old player in the "fresh food e-commerce" track. Because of the extremely high loss rate of this track, but it can also harvest huge traffic. Therefore, in the 6 and a half years of its establishment, Daily Youxian has witnessed the fall of many opponents and ushered in batch after batch of new ones. Players, and at the same time, need successive financing to replenish "ammunition."
Nowadays, the competition in the "vegetable selling" business has become fierce. Internet giants such as Meituan Optimal, Orange Heart Optimal (under Didi), and Duoduo Maicai (under Pinduoduo) have entered the community group buying, and there are also from Dingdong Maicai and Meituan The opponents of buying food equivalent to the "pre-warehouse + delivery model" are developing rapidly. After the tide of bankruptcy of fresh food e-commerce, the track has become hot again. For Daily Fresh Food, this is a good thing, but it is also a challenge.
Performance dismantling: losses have narrowed significantly, and performance costs accounted for about 1/4 of revenue
From the performance point of view, from 2018 to 2020, the daily revenue of Youxian was 3.55 billion yuan, 6.0 billion yuan and 6.13 billion yuan.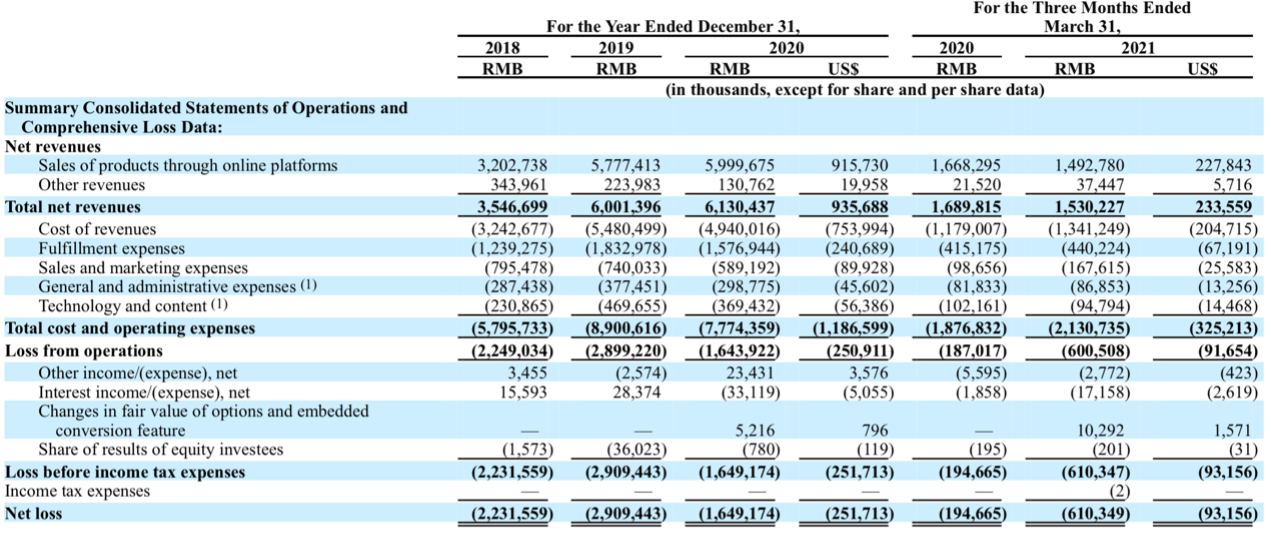 2019 is a year of rapid development of Daily Fresh Food. This is not difficult to see in the "69% year-on-year increase in revenue".
This is a year of daily excellence and freshness. One example is the large investment in technology and content. For the whole year of 2019, the daily cost of Youxian on technology and content was close to 4.7 billion, an increase of more than 100% compared to the previous year. At the same time, with the expansion of business scale, Daily Youxian has also increased its costs, performance costs, and administrative expenses, but has decreased marketing expenses.
Entering 2020, with more and more players pouring into the fresh food e-commerce track, the daily revenue of Fresh Fresh has only gained a small increase, from 6.0 billion to 6.13 billion. However, compared to the opponent's strategy of trading losses for growth, Daily Youxian's losses have significantly narrowed in 2020. The net loss has dropped sharply from 2.91 billion yuan in 2019 to 1.65 billion yuan in 2020, a drop of up to 43.3%.
In terms of cost control, Daily Youxian's gross profit margin has increased from 8.6% in 2018 to 19.4% in 2020. Specifically, in the case of basically flat revenue, the daily operating costs of fresh fresh products have dropped by about 10%, and direct sourcing of commodities may be the main reason for the decrease in costs. Last year, Liu Zhidan, vice president of Daily Fresh Food and head of the Commodity Center, once said that the proportion of direct sourcing of commodities is close to 80% of the target, and that direct sourcing can further reduce costs by more than 10% compared to land sourcing.
In addition, Daily Fresh Food has also reduced various expenses to a greater extent. Among them, performance expenses fell by 14% year-on-year, marketing expenses fell by 20% year-on-year, and administrative expenses fell by 21%, all of which are manifestations of improved operational efficiency.
Among the various expenses, the daily excellent fresh flowers has the highest proportion of the cost of contract performance. From 2018 to 2020, daily Youxian's performance costs were 1.24 billion yuan, 1.83 billion yuan, and 1.58 billion yuan, accounting for 34.9%, 30.5%, and 25.7% of the company's current operating income, respectively, a significant decrease.
Since Daily Youxian launched the heavy asset model of pre-warehouses, discussions on performance costs in business analysis have been heated. Since the initial investment has become an established fact, how to increase the customer unit price to cover the cost has become a key concern of Daily Fresh. As of now, the daily average customer unit price of fresh pre-warehouse real-time retail is 94.6 yuan. According to its prospectus, this is currently the company with the highest unit price under the pre-warehouse model.
However, in the field of "selling vegetables", compared with the previous high-investment pre-warehouse model, the current capital's most favored model is the light asset model of community group buying, which is an appointment order + self-request. In this track, there are also Internet giants such as Meituan, Pinduoduo, Didi, and JD.com.
From a geographical point of view, the competition between Daily Fresh and the current popular community group buying is not a head-to-head competition.
Daily Youxian's main battlefields are distributed in four regions: North China, Central China, South China, and East China. They are mainly first-tier or new-tier cities. Cities such as Beijing, Shanghai, Guangzhou, Shenzhen and Hangzhou are involved. Among them, North China is a key area, and only Beijing City The number of front positions has reached 1/5 of the total.
As for community group buying, as of the end of last year, Didi's community group buying companies such as Orange Heart, Meituan, Duoduomai, Xingshengyou are still developing in second-tier cities, such as the Hunan and Hubei provinces in central China and the southwestern region. Mainly in Sichuan. However, after nearly half a year of development, as of the end of March this year, Meituan Optimal has stationed in more than 2,600 cities and counties across the country, basically completing national coverage. According to data from Everbright Securities, in April this year, Duoduo's business coverage has covered about 1,800 counties.
Compared with the rapid expansion of community group buying, Daily Youxian appears to be more cautious in Kaicheng, but it also avoids the problem of further expansion of losses. As of March 31, 2021, Daily Youxian has established 631 front-end warehouses in 16 cities in China, and has accumulated more than 31 million trading users.
Financing story: Xu Zheng and his "100 billion" goal
Compared with the boring research on revenue, contract performance, and supply chain, the daily financing story of Youxian is more interesting.
Behind this fast-growing company is Xu Zheng, who was recommended to the University of Science and Technology of China at the age of 15, and became the youngest general manager of Lenovo's business department in China at the age of 28. In the 30th year of his establishment, he took the initiative to ask Ying to transfer to Jiawo, abandoning the seemingly high-end business of "selling computers" and moving to the field to study "selling fruits". Three years later, in 2014, he founded Daily Youxian.
According to incomplete statistics, Daily Youxian has completed 10 rounds of financing, with a cumulative total of more than 11 billion yuan. In the second half of last year alone, Daily Youxian completed two rounds of financing with a total of more than 5 billion yuan. And its investors are also from top VCs, well-known companies and local governments.
Among them, Tencent has invested in 5 consecutive rounds, and Xu Zheng's old club Lenovo has also participated in the C round of investment. In terms of capital, Daily Youxian's shareholders include ICBC International, CICC Capital, and Goldman Sachs. At the same time, state-owned assets such as Suzhou Changshu Government Industrial Fund, Qingdao Guoxin, Qingdao Municipal Government Guidance Fund and other local government funds also appeared on the list of investors.
Despite this, Daily Youxian has also encountered the darkest moments in its development. In the most difficult moment of financing, Xu Zheng used all of his real estate mortgage loans to prepare for the company to invest all of his belongings.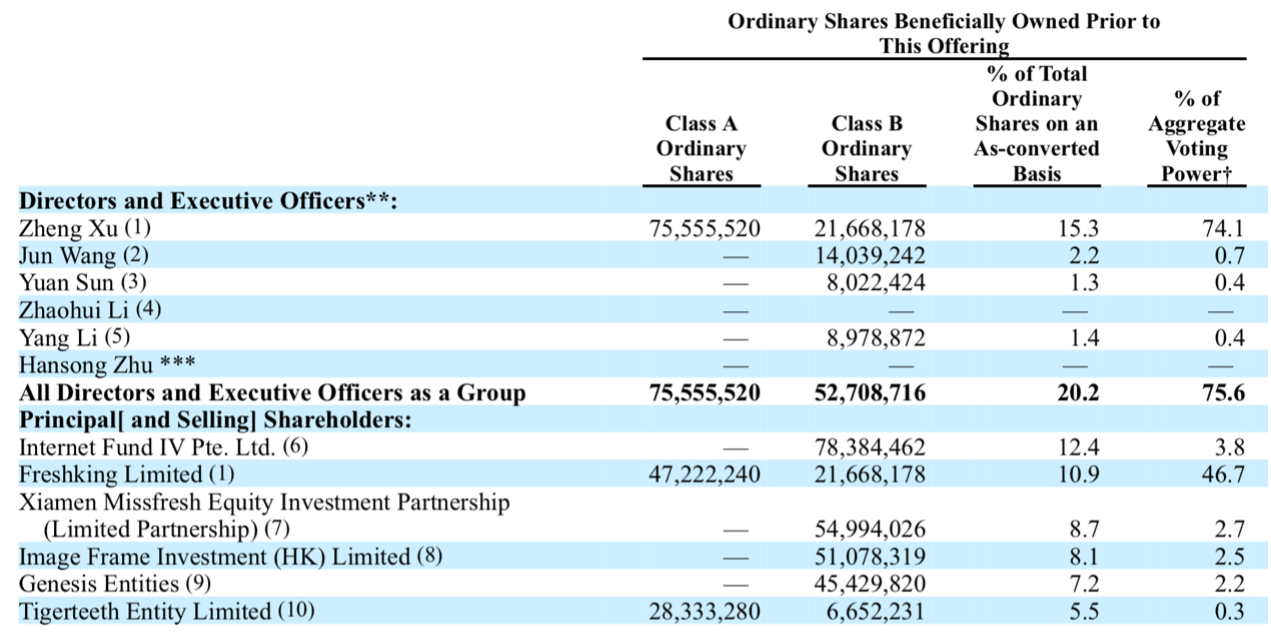 Look at the shareholder structure of Daily Youxian. In the management, Xu Zheng, the founder and CEO of Daily Youxian, holds 15.3% of the shares and has 74.1% of the voting rights. In addition, the company's CFO Wang Jun owns 2.2% of the shares and owns 0.7% of the voting rights; the company's COO Sun Yuan owns 1.3% of the shares and 0.4% of the voting rights.The directors and the company's management hold a total of 20.2% of the shares and 75.6% of the voting rights
Among the external shareholders, Xiamen Daily Youxian Equity Investment Partnership (Limited Partnership), with a Qingdao state-owned background, holds the highest share of 8.7%, with 2.7% of the voting rights. According to the total investment of 2 billion yuan in Qingdao's state-owned assets, as of December last year, the daily valuation of Youxian was around 23 billion yuan.
In addition, Image Frame Investment of Tencent Holdings holds 8.1% of the shares and 2.5% of the voting rights. Genesis Capital holds 7.2% of the shares and has 2.2% of the voting rights. In addition, Zeng Bin, the other founder of Daily Youxian, holds 5.5% of the shares and 0.3% of the voting rights.
The number of "hundred billions" is constantly mentioned in the financing stories of various stages and different versions of Youxian Daily.
In June 2019, Daily Youxian and Tencent jointly held a huge smart retail conference. It was at this press conference that Xu Zheng proposed for the first time the goal of growing into a "hundred billion" scale fresh food retail platform.
Daily Youxian's latest financing occurred on December 9th last year, and it is also the largest strategic investment of fresh food e-commerce in the local area so far, with a total amount of 2 billion yuan. In this financing conference from the Qingdao government, the perspective of Daily Fresh Food is not limited to the "100 billion" track of "selling vegetables", but involves the four "100 billion" of ecological chain, finance and technology.
Among them, the ecological chain is mainly undertaken by Sansheng Venture Capital, a fund of Daily Fresh Food, which mainly includes the five aspects of the upstream vegetable industry, dairy industry, fruit industry, fishery and meat industry. Guo Qi, the founding partner of Sansheng Ventures, is also the vice president of Daily Youxian. In his opinion, the cultivation, breeding, and processing of agricultural products are actually extended to deep processing and high added value, from agriculture to industrial products. Conversion.
Finance is mainly for farmers, channel merchants, merchants, and users, including four types of entities, including agricultural insurance for farmers, futures trading for channel merchants, supply chain finance for merchants, and consumer credit to users. The first step is to adopt a weekly settlement policy with the head supplier. In the field of science and technology, it mainly includes biotechnology and AI technology. Among them, biotechnology mainly involves the improvement of varieties, while empowering traditional industries.
However, these stories are far from being realized on the eve of listing. At the beginning of the prospectus, Daily Youxian proposed the formula (A+B)*N. A stands for real-time retail in the front-storage mode, B stands for smart food market, and N stands for retail cloud.
Previously, Daily Youxian has developed an end-to-end intelligent system based on a large amount of data accumulation and algorithm optimization-Smart Retail Network (RAIN), covering core areas such as smart supply chain, smart logistics, and smart marketing. Smart food market and retail cloud are new business formats for the B-end extended on this basis.
According to the prospectus, in the practice of smart vegetable market, Daily Youxian will first obtain the right to operate the vegetable market, then renovate the layout of the venue, optimize the combination of merchants and introduce new business formats; at the same time, provide merchants with electronic payment, online marketing, and CRM tools. SaaS service package including business planning; finally, help merchants of smart food market convert offline customers into online private domain traffic, and realize further increase in e-commerce business revenue through online trading platforms.
Up to now, Daily Youxian has signed operating agreements with 54 vegetable markets in 14 cities, and has started operations in 33 vegetable markets in 10 cities.
In the retail cloud business, Daily Youxian will target long-tail small and medium-sized supermarkets as its target customers, providing online and offline omni-channel retail, customer management, supply chain and performance management digital capabilities, and to achieve vertical e-commerce The development path towards platform.
The first-hand vegetable market and the other-hand supermarket, Daily Youxian has set its sights on the wider retail entrance.
But the story is also just a story. Today, Daily Youxian has turned the story of the pre-storage into reality, but Daily Youxian now has to face more capital influx into the track, and more experienced and well-executed companies as its opponents. .
In Xu Zheng's prediction, the end result of the fresh food market will be the coexistence of multiple oligarchs at the level of hundreds of billions. For Daily Youxian, who is entering the next stage, it may be re-adjusting the fighting posture.