On the evening of May 21, the Via Carnival kicked off in Hangzhou. That night, Wei Ya handed out 618 exclusive red envelopes worth RMB 618 in the live broadcast room and continued last year's 5.21 RMB spike activity. Before the party started, Wei Ya and her husband, Qianxun Chairman Dong Haifeng accepted an interview with a reporter from Nandu.
Wei Ya told Nandu reporters that at present Qianxun has a department dedicated to docking agricultural products from all over the country. "I think agricultural products are real domestic products. Through live webcast, more people can understand agricultural products, and rural revitalization can be realized in the form of purchase instead of donations. ."
It is understood that since 2016, Wei Ya has carried out hundreds of live broadcasts to help farmers, and the total amount of charity guidance has exceeded 700 million yuan.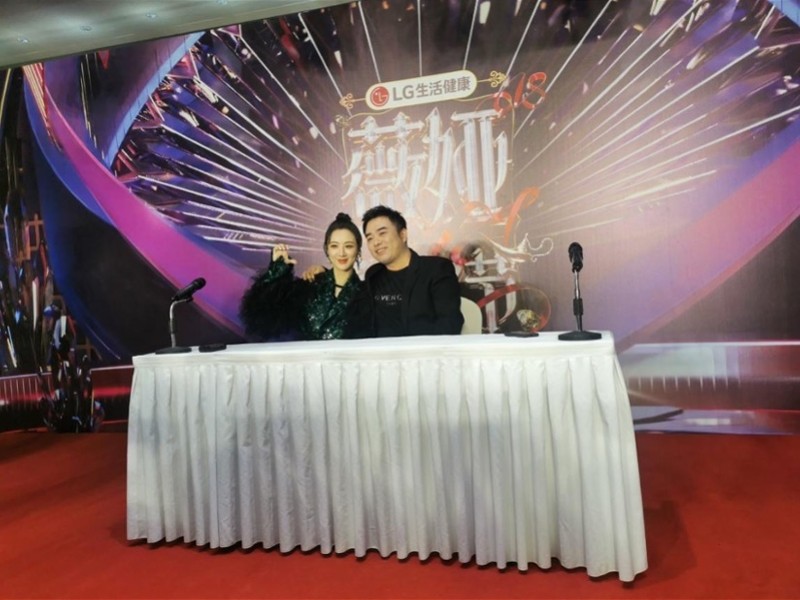 Wei Ya and her husband, Qianxun Chairman Dong Haifeng "Rocket Project" empowers the brand It is understood that in addition to incubating anchors, Qianxun has also laid out store broadcasting, brand operation and other businesses. Dong Haifeng told Nandu reporters that the development history of Qianxun is divided into two stages. From 2017 to 2019, Qianxun is mainly to build a professional operation team, broker team, supply chain, etc. for the anchor. After 2019, after contacting a large number of brand owners, Qianxun hopes to empower the brand owners. "So we have a lot of new subsidiaries in 20 to 21 years, and these subsidiaries are actually helping the brand to provide services. I hope that through Qianxun's overall capabilities, we can help brands reduce operational pressure and improve efficiency." Qianxun also launched the "Rocket Project" this year, which is mainly to innovate in the marketing model to help brands achieve efficient matching of products and customers, as well as marketing co-creation and channel launch. "When the original traditional brand was launched, They care more about the amount of exposure, and it is difficult for them to get the real ROI and conversion rate. But in fact, through our live broadcast room, a lot of data can be traced back. So we just made a "Rocket Project", the purpose is to let us The live broadcast room and the brand jointly do promotion and marketing, so that more brands can know what the effect of the money they spend in the end, how many consumers are reached, and how many transactions are generated." Dong Haifeng revealed that Qianxun has now created a new model, that is, through the live broadcast room of the anchor and the opportunity of the brand's new product launch to jointly invest in advertising. "For consumers, if they really like this product, they will know that there must be a discount for the first release of a new product in the live broadcast room of a certain anchor; because there are discounts, consumers will pay attention to this live broadcast; we are driven by interests; First direct the traffic to a live broadcast room of an anchor, and then after the first release of the new product through the live broadcast room, the real and accurate users are sold to the brand's Tmall flagship store; the Tmall flagship store can then follow the information of the user's order. Do the secondary management of users." In Dong Haifeng's view, this type of combination can bring new effects to the advertisements of the host and the brand. "The anchor has to advertise, and the brand has to advertise. It originally cost two money, but now it's superimposed and only spends one. Money. But it turns out that consumers may not know what the anchor will broadcast and will not come; brand new products are launched, and consumers can find them on Tmall every day, and there is no sense of urgency. Combining these two information, with time, there is With the location and the temptation of interest, then the advertisement may have new effects." Start the rural industry support plan At the scene of the Via Carnival, the "Country Industry Support Plan" was officially launched. It is understood that since 2016, Wei Ya has carried out hundreds of live broadcasts to help farmers, and the total amount of charity guidance has exceeded 700 million yuan. Wei Ya told Nandu reporters that at present Qianxun has a department dedicated to docking agricultural products from all over the country. "I think agricultural products are real domestic products. Through live webcast, more people can understand agricultural products, and rural revitalization can be realized in the form of purchase instead of donations. ." Wei Ya also said that live broadcast to help farmers is not a simple transaction. The most important thing is to let local people understand what standardization is and how to turn agricultural products into commodities, and then into explosive products. "It really comes to the market. In addition to being able to sell well in the Weiya live studio (in other places), I think this is the biggest advantage." Dong Haifeng revealed that Qianxun is currently building a professional team to communicate more with the locals, hoping to transform some seasonal agricultural products into commodities that can be sold throughout the year. "For example, our Dangshan pears, pears are In a certain season, it was a special product in Dangshan, Anhui, but how did we finally turn pears into pear paste, and finally became a hot product in the live broadcast room after it was put on the shelves in the live broadcast room. Pear paste can actually be sold all year round. It really drives the local farmers to change. Planting their specialty pears in more places can also drive local employment for secondary processing companies. From this case, we will upgrade." That night, Wei Ya also donated 2 million yuan to the China Youth Development Foundation for training of rural teachers in 18 Wei Ya Hope Primary Schools and surrounding rural primary schools in Yunnan, Anhui, Gansu, Guangxi, Shaanxi and other places. Written by: Southern Metropolis reporter Wang Chenchen