The stories are nice, but there is something missing
Text/Song Gui
On June 11, Beijing time, Didi Chuxing formally submitted an IPO prospectus with the stock code "DIDI" to the U.S. Securities and Exchange Commission (SEC). The number of shares to be issued and the price range have not yet been determined, but according to industry insiders' speculation, Didi's US stock market value will reach 100 billion U.S. dollars.
Previously, "LatePost" reported that Didi might be listed on Hong Kong stocks in 2021. Later, Tencent reported that Didi had suspended its Hong Kong IPO plan and reconsidered listing on US stocks. The main reason was that the Hong Kong market gave a valuation cap of only 80 billion. US dollars, while the US market can give a valuation of 100 billion US dollars.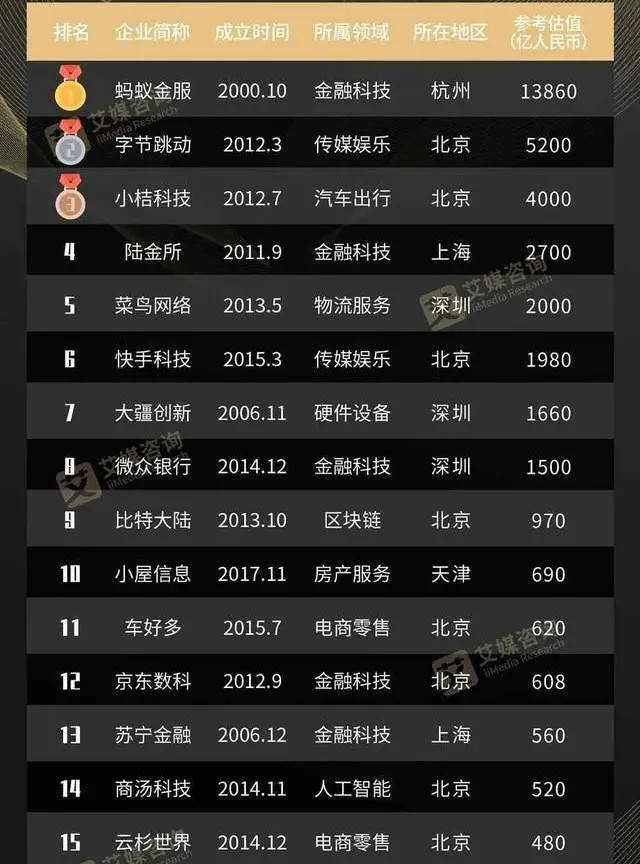 In the "2020 China's Top 200 New Economic Unicorns" released by the analysis agency iiMedia Consulting, Didi ranked third, but its valuation is only 400 billion yuan, about 65 billion US dollars.
Since its establishment in 2012, Didi has raised approximately US$30 billion in financing. As can be seen from the Didi IPO prospectus, executives from SoftBank, Boyu Capital, Alibaba, Tencent, and Apple are all on the board of directors. Multiple rounds of financing make Didi's valuation inevitably a drumbeat. Only a US$100 billion valuation can bring excitement to the capital.

But can Didi's existing business support a market value of US$100 billion?
The annual revenue of the three major businesses is 141.7 billion yuan, and travel is the absolute main force
According to the prospectus, Didi currently divides its revenue into three major businesses, namely, China's travel business, international business and other businesses. The revenue of the three major businesses in 2020 will be 133.6 billion yuan, 2.3 billion yuan and 5.8 billion yuan respectively.
Everyone is already familiar with China's travel business, which is to provide shared travel services, drawing a commission from the driver. As of March 31, 2021, Didi has 377 million annual active users and 13 million annual active drivers in China. In the first three months of 2021, the average daily order volume of the Didi platform is about 25 million.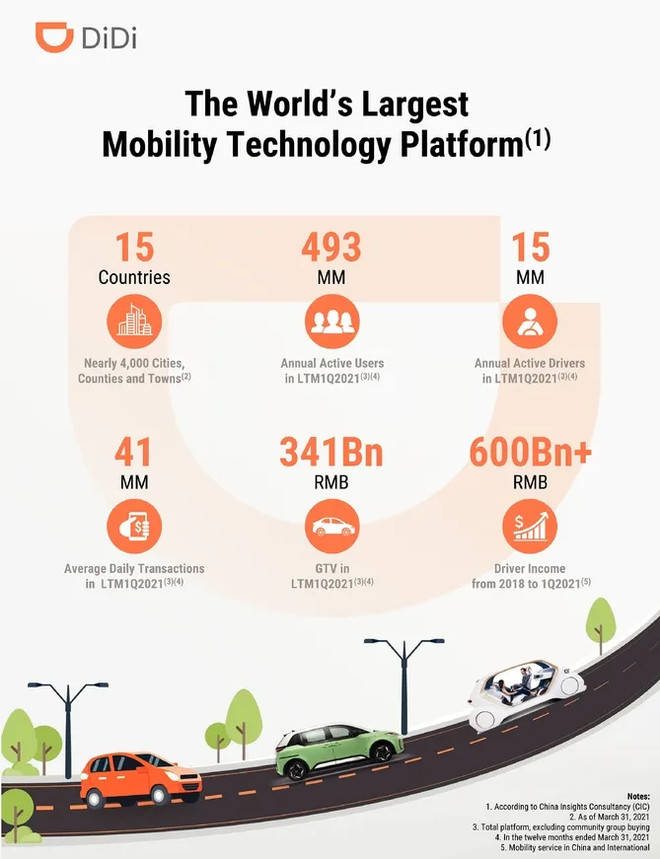 On a global scale, Didi Travel's operating network covers nearly 4,000 cities, counties and towns in 15 countries/regions. In the past 12 months ending March 31, 2021, the total transaction volume of the platform reached RMB 244.2 billion.
From the data point of view, Didi is undoubtedly the hegemon in the shared travel field. How does Didi defend its dominance? On the capacity side, Didi currently has the largest car rental network in China. The prospectus shows that as of March 31, 2021, Didi has approximately 3,000 car rental partners and more than 600,000 rental cars. According to data from China Investment Corporation, drivers who use Didi's car rental program can save about 20% of the average rental price of the top 10 popular models compared to drivers who rent directly from the rental company.
In addition to the cost of vehicle rental, Didi also cooperates with gas stations and maintenance shops to allow drivers to enjoy discounts on refueling and vehicle maintenance. As of March 31, 2021, Didi has more than 8,000 cooperative gas stations. At the same time, to supplement the energy of electric vehicles, Didi has built the largest charging network in China. According to the data for the first quarter of 2021, Xiaoju Charging (including cooperation) accounted for more than 30% of the total public charging piles nationwide, and Didi drivers can use preferential discounts.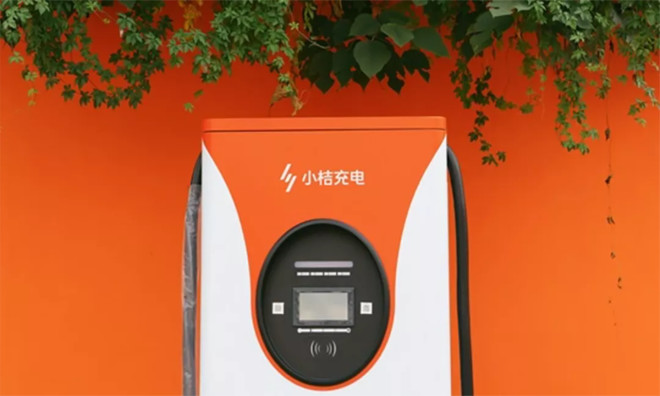 Transport capacity is one of the foundations of shared travel services. Didi obtains transport capacity guarantee by providing convenient services and preferential resources to car owners. Other travel companies will not be able to catch up with the investment in this area in the short term.
The second is the platform's scheduling algorithm. According to Didi's prospectus, its core assets are supply and demand forecasting and driver and passenger matching algorithms, which can accurately predict supply and demand fluctuations through AI, and dynamically adjust driver-side incentives in response to fluctuations to achieve inter-regional driver and passenger supply and demand. Balance, increase the driver's income per unit time, and reduce the average time for passengers to call a taxi.
At the level of user activity, Didi faces great risks. With the addition of ride-hailing applications such as Baidu Maps, AutoNavi Maps, Air Travel, etc., travel companies with abundant transportation resources, such as Shouqi Car-hailing, Xiangdao Travel, and 3T Travel, get rid of Didi's traffic advantage. , Relying on a larger flow entrance to seize part of Didi's market. Personally, I have stopped using the Didi app for a long time, but instead use the more convenient AutoNavi map to take a taxi. AutoNavi covers far more functions than Didi, which means AutoNavi users The opening frequency is much higher than that of Didi, and AutoNavi can use WeChat location sharing, and the ease of use is much higher than that of Didi, which only has a single function for taxis.
For express consumers, the attractiveness of subsidies and discounts is higher than waiting time. Moreover, as Didi's subsidies for drivers decline, Didi's capacity has also begun to decline, and the waiting time for taxis during peak hours is lower than other times. The advantages of travel companies are not obvious. Although all travel companies are not fighting subsidy wars anymore, in the future, once currency liquidity improves, new players enter the market, and the subsidy war ignites, Didi can only passively fight.

As Yuanchuan Technology Review put forward in the article "The "Deflation Squeeze Dividends" of Meituan's Lying Win", the giants that existed during deflation can use the advantages of scale to squeeze small players and take advantage of the gap to improve their operating conditions. It is only temporary. Once the currency trend changes, everyone will come back to fight for subsidies if they have enough ammunition again. It's not that there are no more people who challenge the overlord, but they all choose to be the "Voldemort" waiting for the spring in this cold winter.
Therefore, I think that Didi's core revenue source, that is, shared travel business, has its own core advantages, but these advantages cannot play a decisive role in the battle. In terms of long-term growth, Didi's road ahead is not a smooth one.
Lack of imagination in other business markets
In addition to travel, Didi's three major businesses have "other businesses", namely shared bicycles and motorcycles, community group buying, intra-city freight, financial services, etc.
Since the establishment of Didi's two-wheeler business unit in June 2019, it has two brands, Qingju Bicycle and Street Rabbit Motorcycle. In March 2020, the two-wheeler business unit was upgraded to an independent business unit. At present, the two-wheeler market is dominated by Haro (Ant Financial), Qingju Bicycles, and Meituan Bicycles. According to the prospectus, as of March 31, 2021, Didi has deployed 5.2 million bicycles and 2 million electric bicycles in 220 cities in China. The revenue of shared bicycles and motorcycles increased from 200 million yuan in 2018 to 1.5 billion yuan in 2019, and revenue in 2020 reached 3.2 billion yuan, a very rapid increase.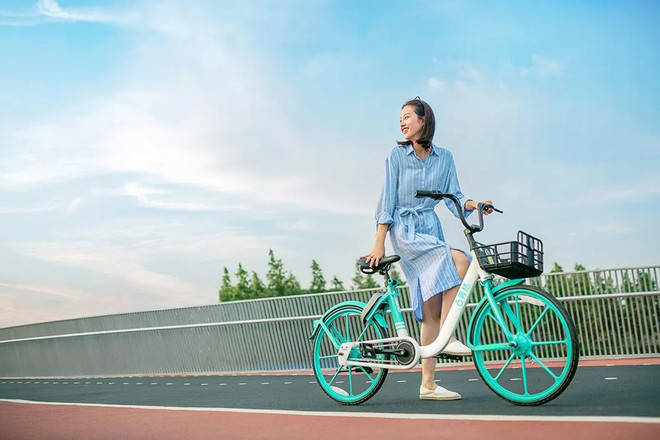 Community group buying and intra-city freight can only be regarded as derivatives of Didi Chuxing. Didi launched an intra-city freight service in June 2020. With the help of Didi's shared travel platform algorithm, it can match transportation demand and shared travel demand, and increase the utilization rate of shared travel vehicles. According to the prospectus, from July 2020 to December 2020, within six months of the launch of intra-city freight business, Didi completed 11 million orders in eight cities.
Community group buying also uses the algorithm of the Didi shared travel platform to help residential areas deliver some fresh produce, household necessities and other necessities. This demand was generated during the outbreak of the new crown virus. At present, there are many domestic companies including Meituan and Pinduoduo. All companies have entered the game. However, this business is often criticized. The People's Daily has also criticized by name, "Don't just worry about the flow of a few bundles of cabbage and a few kilograms of fruit, the technology giants, the stars and the sea of ​​technological innovation, and the infinite possibilities of the future are actually even more exciting Emotionally".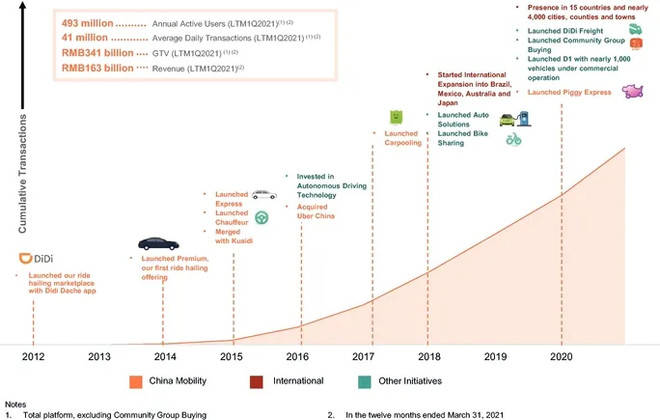 The financial business of Didi is hardly mentioned in the prospectus. The addition of financial lending services in the APP has basically become the consensus of domestic Internet giants, but currently only Ant Financial, JD Finance, and WeBank have large markets. Didi Chuxing Compared with other service apps, the frequency of users opening is not high, and the ride-hailing scene does not fit well with financial lending. Therefore, it is conceivable that the financial road is not suitable for Didi.
Other businesses basically carry Didi's business exploration beyond its main business, but from the perspective of market size, these projects are difficult to support a greater imagination in the capital market.
Electric car Didi just taste it
It has to be said that electric vehicles are the most popular territory in the capital market at this stage. Weilai Automobile closed at $45.68 per share on June 11, with a total market value of $74.848 billion. And in the long run, it may only be a matter of time before Weilai Automobile becomes a car company with a market value of 100 billion U.S. dollars.
It is a pity that Didi wants to prop up its market value of hundreds of billions of dollars without taking advantage of electric vehicles. In fact, in addition to its three major businesses, Didi has four core strategic areas, namely shared travel, car service, electric vehicles, and autonomous driving. Even for electric vehicles, it has also given a clear time chart, including hydrogen fuel cell vehicles. All considered.
However, Didi's participation in new energy vehicles at this stage can only be side-by-side. In 2020, Didi and BYD jointly launched the first car D1 for travel scenarios. So far, 1,000 D1s have been put into operation. In the D1 project, Didi mainly entered design requirements, and specifically customized and developed battery BMS systems and car-machine systems for shared travel scenarios.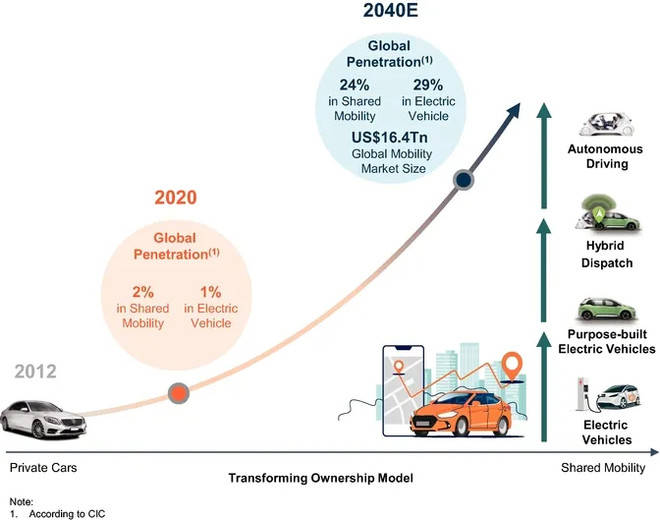 In May of this year, Didi once again announced the cooperation with GAC Aian to jointly develop a pre-installed and mass-produced electric Robotaxi for shared travel scenarios. This will be the second time that Didi has cooperated with OEMs to build new energy vehicles. However, it is clear that the two vehicles were built with the focus on Didi's shared travel business and did not take the opportunity to make more in-depth actions in the new energy vehicle market.
According to an insider of an auto parts supplier, people from Didi, Baidu, Huawei, and Xiaomi have been in contact with procurement matters before. The impression of Didi's team is very professional, at least much more professional than the people at Huawei and Xiaomi. As the most recent Internet technology giant in the automotive field, Didi should have had the opportunity and ability to participate more deeply in the new energy vehicle chain, such as the research and development of three electric technologies, the supply of overcharging and point-switching technologies, etc., but it is subject to Didi missed the new energy vehicle track due to the operating and financial pressure of its main business.
Autonomous driving business: the ideal is full, the reality is skinny
Autonomous driving is an opportunity to match the shared travel business direction and face the wind. In 2016, Didi first recognized the deployment of autonomous driving. In 2019, Didi registered "Shanghai Woya Technology Co., Ltd." in Shanghai and began independent financing. In the same year, it obtained Shanghai's first batch of demonstration application licenses for intelligent networked vehicles. Currently, Didi Auto The driving team has a size of 500 people.
In June 2020, Didi began its Robotaxi trial operation in the Shanghai Jiading Intelligent Networking Test Area. Currently, there are about 36 Robotaxi modified by Volvo XC60 in operation in Jiading.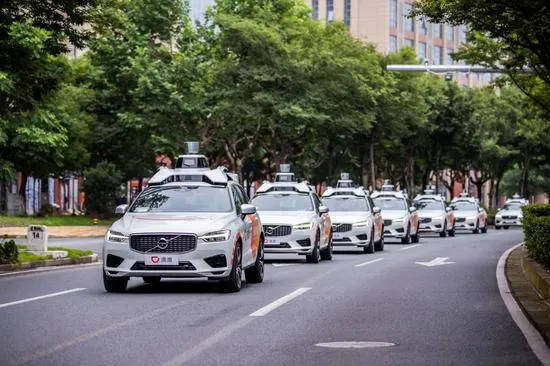 In terms of common indicators for measuring autonomous driving companies, fleet operation scale and total test mileage, Didi's autonomous driving is not the first echelon, but Didi's advantage lies in relying on a large number of shared travel vehicles to obtain a wide range of real road traffic data . As Didi's irreplaceable core advantages repeatedly mentioned in the prospectus: "Our advantages are built on our experience in operating a shared mobility platform at tremendous scale as well as our massive repository of real-world traffic data, which is not easily replicable."
Wei Junqing, CTO of Didi Autonomous Driving, previously stated that Didi is the only autonomous driving company in the world with data on hundreds of billions of kilometers. 50% of Didi's online ride-hailing devices are equipped with orange vision recorders to collect real road conditions during driving, which can collect nearly 100 billion kilometers each year. This information will be used for the training of autonomous driving models.
In theory, Didi does have a unique advantage, with the ability to collect information beyond Tesla's shadow mode, and data will be the food that feeds the evolution of the autonomous driving system. But this set of logic requires strong data sorting capabilities, data training models, virtual simulations, large computing power supercomputing platforms, and visual algorithm optimization and development capabilities as support.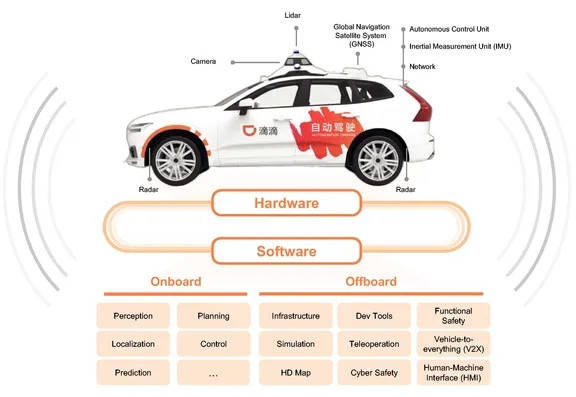 The video collected by the sensor can only be called material, and only the information that can be used to train the automatic driving algorithm after effective processing can be called data. Faced with a large amount of material, it is very difficult for Didi to be logically self-consistent. It needs to find typical scenarios that are valuable for autonomous driving training from the huge daily information, and conduct targeted training on autonomous driving algorithms through virtual simulations. Such technologies need to be verified, which requires strong computing power. In order to process the massive data returned by vehicles, Tesla has developed a supercomputer Dojo that can support video-level unsupervised neural network training.
Therefore, although Didi has unique advantages, it does not mean that Didi has a shortcut to self-driving. In terms of fleet size, test mileage, coverage of cities, and even the number of patents, Didi's current performance of autonomous driving cannot effectively help Didi to hold up a good-looking valuation.
With shared travel, new energy vehicles, and autonomous driving, Didi seems to have set foot on every tuyere, but it seems that it is unable to establish an absolute defensive barrier in every tuyere.
Do you think Didi can hold up a $100 billion valuation?