Beijing Business Daily (Reporter Zhao Shu commented on Zhao Chi) Physical supermarkets are getting closer and closer to Internet giants. On June 15, a reporter from Beijing Commercial Daily noticed that the major shareholder of Beijing Huaguan Commercial Technology Development Co., Ltd. had been changed to Jiangsu Zhuoyu Information Technology Co., Ltd. on March 31 this year, which was 100% Suqian Jingdong Jiapin Trading Co., Ltd. Holding, and Suqian Jingdong Jiapin is a wholly-owned subsidiary of Jingdong Group. The original shareholders Beijing Huaguan Trading Co., Ltd. and Beijing Lihuan Consulting Management Partnership (Limited Partnership) withdrew. At the same time, Feng Yi, vice president of JD.com and president of JD.com retail group's omni-channel business group, was newly appointed as chairman of Beijing Huaguan Commercial Technology Development Co., Ltd.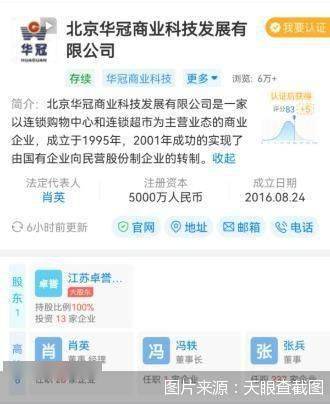 According to the Tianyancha APP, Beijing Huaguan Commercial Technology Development Co., Ltd. is a commercial enterprise with chain shopping malls and supermarket chains as its main business. Its main body is Beijing Huaguan Commercial. Beijing Huaguan Commercial Technology has invested in Zhuozhou City. 6 companies including Huaguan Supermarket Co., Ltd. and Beijing Yanxin Huaguan Trading Co., Ltd.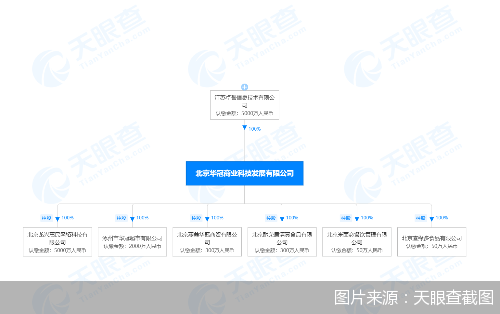 The entry of JD.com also means that the digitization process of Huaguan will be accelerated in an all-round way. It is worth noting that at the 2021 China International Retail Innovation Conference on May 24 this year, Feng Yi also stated that JD.com will in-depth cooperation with Arima to build an omni-channel retail benchmark, and launch digital synergy in the supply chain, omni-channel business upgrades, In-depth cooperation in member digital management has jointly promoted the omni-channel retail reform of Arima.
In fact, Huaguan and JD.com had cooperated a few years ago. As early as 2014, Beijing Huaguan Commercial and JD.com signed an O2O strategic cooperation agreement. In the future, they will be stationed on JD.com's platform to sell products and be responsible for distribution. Although the cooperation between the two parties did not create much spark, Huaguan has never given up the idea of ​​building an omni-channel. It is understood that in 2017, Huaguan Supermarket and WeChat Pay launched a self-service payment applet, and replaced waiting in line with one-click payment on mobile phones, realizing an automated supermarket shopping experience.
On January 24 this year, Zhang Bing, a representative of the Beijing Municipal People's Congress and chairman of Beijing Huaguan Commercial Technology Development Co., Ltd., revealed in an interview with a reporter from Beijing Commercial Daily at the Fangshan District Group Meeting of the Fourth Meeting of the 15th Municipal People's Congress that Huaguan Supermarket in 2021 It is expected that 10 new stores will be opened in Beijing. At the same time, Huaguan Supermarket will continue its digital transformation.
Zhang Bing told a reporter from Beijing Business Daily that some roads were closed due to the fluctuation of the epidemic, which affected the stability of the supply of goods. This requires companies to be fully prepared in peacetime to deal with emergencies. This poses a challenge to the responsiveness of the company's supply chain, which means that we need to be predictive, and the basis of the pre-judgment is the digital operation of the production area, inventory, scheduling, and sales. Supermarket retail must change from extensive to refined Transformation of operations.
It can be seen that the supermarket retail industry and the Internet have moved from antagonism to integration, the former has gone from lively to deserted, the latter has gone from small to unshakable, and now the combination of the two, the supermarket market has also entered a new Internet era and new Retail stage. As Ali started to take a stake in RT-Mart in 2017, Ali's digital transformation is also getting better. This has also allowed more and more companies to follow suit. Especially during the epidemic, supermarket online orders surged, and online platforms became the second growth curve driving traditional supermarket sales. This also allows physical supermarket companies to see the prospect of digitalization and accelerate the pace of digital transformation.
Wen Zhihong, partner of Hejun Consulting and head of chain management, said in an interview with a reporter from Beijing Business Daily that the current digital wave in the supermarket industry has arrived, and the business model of the supermarket industry in the future will no longer just stay in the original offline. Physical stores are moving towards omni-channelization.
"Comprehensive integration actually means the reconstruction of the traditional retail industry, including commodity management, customer service, store management, and store planning. Great changes have taken place. It will be very difficult to develop on your own capabilities alone. . The development of an enterprise will have different leading forces at different stages." Wen Zhihong analyzed.