Amazon founder Bezos: will participate in Blue Origin "space travel" in July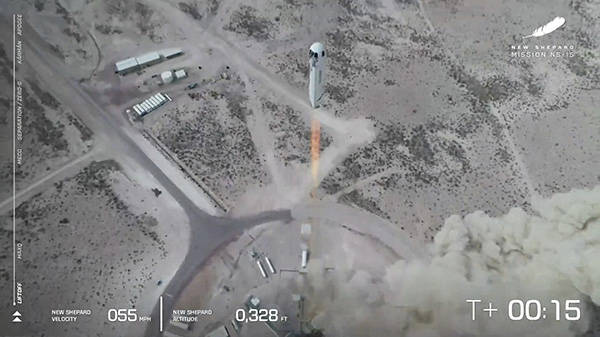 On April 14, 2021, local time, Texas, the United States, Blue Origin's New Shepard rocket was undergoing testing.People's Visual Information Map
On June 12, an unidentified bidder bid 28 million U.S. dollars (approximately RMB 179 million) for a ticket for the first manned space flight of Blue Origin, a space exploration company owned by Amazon founder Bezos. .
According to a report by the US Consumer News and Business Channel (CNBC) on June 12, the winning bidder will fly into space on the "New Shepard" with Bezos and his brother Mark on July 20. Blue Origin said it will announce the passenger's name in the next few weeks.
On June 7, Bezos announced on social media that he would participate in the first manned flight of the "New Shepard" as a passenger on July 20, and his brother Mark will also participate. Blue Origin's astronaut instructor, Arian Cornell, stated in the auction webcast that the first manned flight of the "New Shepard" will carry four passengers, including Bezos, Bezos' brother, There will be a fourth bidder who will be announced later.
On May 5, Blue Origin announced the sale of a ticket for the first space cruise through an online auction. The initial bid for this ticket was 4.8 million U.S. dollars, but it exceeded 20 million U.S. dollars in the first few minutes of the auction. According to reports, the auction proceeds will be donated to Blue Origin's education-focused non-profit organization "Future Club", which provides support to young people interested in future science and engineering careers.
The "New Shepard" is named after Alan Shepard, the first American astronaut to enter space. It consists of a rocket and a crew compartment, both of which can be reused. There are 6 crew compartments. seat. The aircraft being developed by Blue Origin plans to send humans and payloads to suborbital space and return.
(This article is from The Paper. For more original information, please download the "The Paper" APP)