What will happen when the United States publicly announces that it will donate 80 bottles of COVID-19 vaccine to Trinidad and Tobago, a Caribbean country with a population of approximately 1.4 million? Overwhelming ridicule, criticism, and contrast. Because less than a day after the United States announced the donation of 80 bottles of vaccines, the 200,000 doses of Chinese vaccines purchased by Tribunal will arrive in the country's capital, Port of Spain. China has previously donated a batch of new crown vaccines to Tribunal.
The U.S. Embassy in Trinidad and Tobago issued a statement on its official Twitter on the evening of the 13th local time, saying, "The U.S. government has donated 80 bottles of Pfizer's new crown vaccine to the government of Trinidad and Tobago. The U.S. is committed to Help the Trinidad and Tobago government to carry out vaccination work." According to previous reports in the US media, a bottle of Pfizer's new crown vaccine contains 5 or 6 doses of vaccine. In other words, 80 vials of vaccine are only equivalent to more than 400 doses of vaccine. According to the one-person two-dose vaccination process, only enough to vaccinate more than 200 people. Perhaps the U.S. Embassy itself realized the ridiculousness of "80 bottles", and deliberately added at the end of the statement, "We believe that every dose of vaccine is important."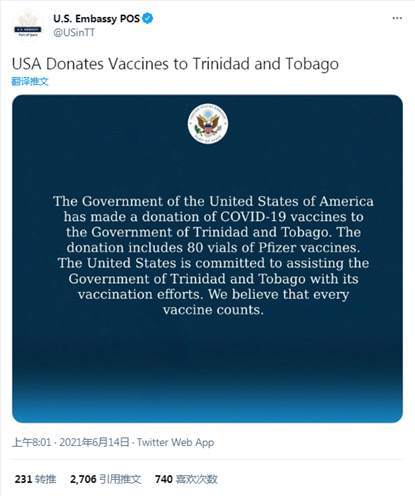 This donation statement was quickly spread on Twitter and received a lot of criticism and ridicule comments. Netizens from various countries were surprised that the US embassy announced the number of "80 bottles" of donations.
@Snigdha100%vaxxed#GetYoVax: 80 bottles? How many people can this bring continuous protection? Because it seems to me nothing to show off.
@Got My Moderna Workin": For a country with more than 1 million people, 80 doses (bottles) are an insult.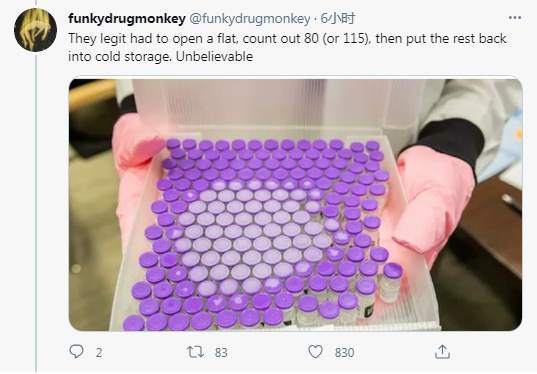 @funkdrugmokey: They (the US government) must open a box of vaccines, count 80 bottles (or 115 bottles) from it, and then put the other vaccines back into the cold storage. incredible.
@Mohammad: This statement has almost as many words as the number of vaccines to be donated.
@MaryAnn Johanson: This is a shameful and meaningless gesture. You (the United States) should keep it secret, not hype.
Some comments also questioned that the United States had previously announced the distribution of 80 million doses of the new crown vaccine to the world by the end of June, and US President Biden just announced that it would donate 500 million doses of vaccines. Are these vaccines just verbal, in reality? Is it only 80 bottles? According to the local media Trinidad Daily Express, the country's Minister of National Security Hinders explained that the 80 vials of vaccines announced by the United States have nothing to do with "any large-scale donations that we anticipate that the United States is considering". Vaccines are "just a small batch of gifts received by the Ministry of National Security."
While the message was almost overwhelmingly criticizing the U.S. government, some Trinidad and Tobago netizens were also sharing another piece of news: The first batch of 200,000 doses of China's Sinopharm vaccine purchased by the country will be delivered on the 14th local time and will arrive in Port of Spain, the capital of Trinidad and Tobago.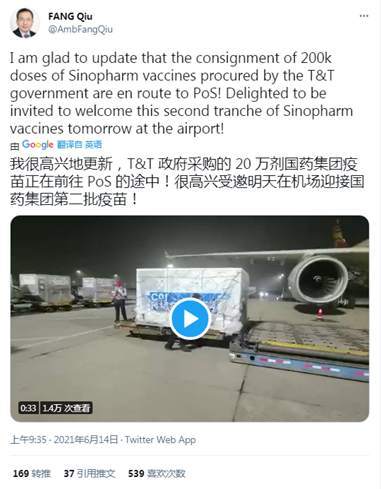 On the 13th local time, Chinese Ambassador to Trinidad and Tobago Fang Qiu announced the above news on his official Twitter and Facebook. "I am very happy to announce this latest development. The 200,000 doses of Sinopharm vaccine purchased by the Trinidad and Tobago government are on their way to Port of Spain! I am very happy to be invited to welcome the second batch of Sinopharm vaccine at the airport tomorrow!" Local media also reported that the government of Trinidad and Tobago has also ordered more new crown vaccines from China, which will be delivered in the future.
Below this news, many Trinidad and Tobago netizens expressed their thanks.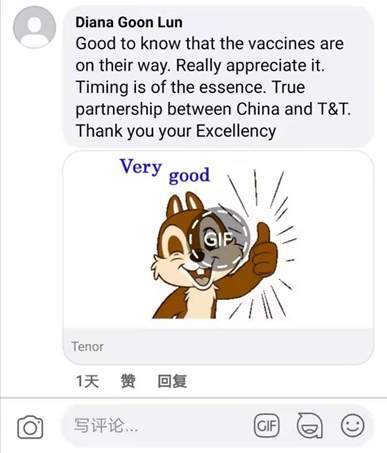 @Dina GoonLun: I am very happy to learn that the (China) vaccine is already on the way. Very grateful. Time is of the essence. There is a real friendship between China and Trinidad and Tobago. Thank you, Mr. Ambassador.
@Ricardo Paul: Well done, Mr. Ambassador.
@Barry Kanchan: We are very grateful. Please send in as many vaccines as possible.
According to the news published on the official website of the Chinese Embassy in Trinidad and Tobago, on May 19, a batch of China's aid to Trinidad and Tobago arrived in Port of Spain. Many local people referred to the Chinese vaccine as "timely rain". According to media reports, this is the largest vaccine aid that Triumph has received so far. According to the "Global Times" reporter, this batch of Sinopharm vaccines will be launched in Trinidad and Tobago nationwide on May 21. Many local government officials and parliamentarians have all been vaccinated against Sinopharm. The country's Senator Laurel Resama shared the process of vaccination in China via Twitter. "It only takes 15 seconds! The whole process went smoothly and well organized."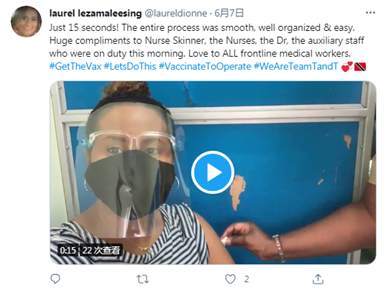 Trinidad and Tobago media reports on Sinopharm vaccination status
The comparison between 80 bottles in the United States and hundreds of thousands of doses in China has already been seen by Trinidad and Tobago people, but Shanter Moore, the US Chargé d'affaires in Trinidad and Tobago, was still in an interview with local media recently. Selectively ignore the facts, while publicizing the promise of the United States to donate vaccines, while facing China's slander.
Ambassador Fang Qiu commented on the interview on Twitter, saying, "This article is full of irony, and one can't help asking, how many vaccines have they (the United States) delivered?" "Actions speak louder than words." Ambassador Fang Qiu wrote.