Although the Chinese women's volleyball team arranged for Zhu Ting to truce in the 12th round of the World League, with Li Yingying, Zhang Changning and Gong Xiangyu's firepower, they ranked 8th in straight sets with 3-0 and Italy's rewrite score of 7 wins, 5 losses and 21 points. , But the situation is unfavorable with a 2 wins and 3 points gap with Turkey, which is ranked fourth. The U.S. women's volleyball team won 12 consecutive victories and secured the top four in three rounds ahead of schedule. Zhu Ting's foreign teacher Guidetti took the lead in Turkey's unstoppable leadership.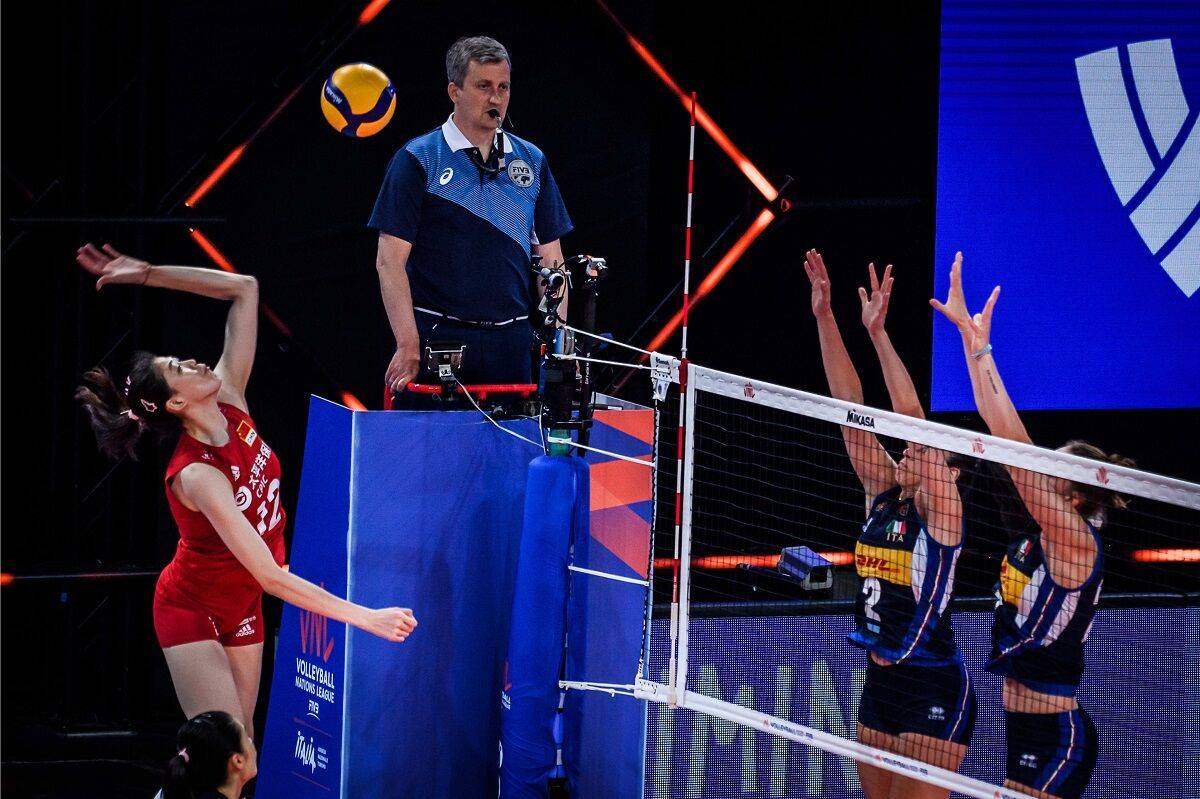 The Women's Volleyball World League is scheduled to be held in the Italian city of Rimini. However, the head coach Mazzanti teamed up with Egnano and Sila to miss out, giving up home court advantage in preparation for the Tokyo Olympics to rush for the championship. The Chinese women's volleyball team played an Italian substitute in the 12th round of the World League, benefiting from the overall dominance of offensive 47-37, blocking 6-2 and serving 6-3, and lost 9 points from 7-16 in their own turnovers and lost three straight games. With a 3-0 (25-19, 25-11, 25-19) victory, Li Yingying won the single-game scoring champion with 19 points.
The Belgian women's volleyball team was defeated by Japan 1-3 (25-23, 22-25, 21-25, 21-25) in the fourth round of the fierce battle of the Belgian women's volleyball team. In the three rounds, Serbia was cleared by 3-0 (25-8, 25-17, 25-23). ​​Evergrande's former foreign aid attacked Koseleva with an injury and won 3 points in the first round. Lova) only played two games to win 8 points; on the other hand, the Netherlands fought hard in four games to 1-3 (23-25, 25-23, 28-30, 22-25) to surrender Dominica.
The 12th round of the German women's volleyball league in the world also gave Poland 3-0 (25-23, 25-20, 25-23); the Korean women's volleyball team fought 3-2 (15-25, 25-18, 27-) in five rounds. 29, 25-20, 21-19) Reversing and defeating Canada, the comeback heroes are to pick up Park Zhenya and Jin Ruanjing each with 24 and 23 points. The Brazilian women's volleyball team defeated Thailand 3-0 (25-11, 25-14, 25-10) in three straight games, while the United States fought 3-1 in four games (25-21, 23-25, 25-15, 25). -14) Captured Zhu Ting's overseas foreign teacher Guidetti to lead Turkey.
Zhu Ting truce with Zhang Changning and Li Yingying as the main offensive team. Although Lang Ping was in charge of the 12th round of the Chinese Women's Volleyball League, he gave away 3-0 to Italy in straight games, but he still finished 7 wins, 5 losses and 21 points. Ranked 8th, there is 2 wins and 3 points gap with 4th place Turkey with 9 wins, 3 losses and 24 points. It is extremely difficult to overtake the remaining three rounds. According to the 13-15th round of the schedule, the women's volleyball girls have recruited Russia, Poland and the United States one after another. While striving for a complete victory, they also need to hope that Turkey loses.
The U.S. women's volleyball team topped the league table with 12 wins, 0 losses and 36 points, and even lead 4th place. Turkey has 4 wins. With three rounds left, it has secured the top four ahead of schedule thanks to the advantage of the win. Shanghai Overseas aided Larsen and Beijing's Diagonal Bach and Evergrande's foreign aid Robinson became the heroes. The Japanese women's volleyball team rose by 2 to third with 9 wins, 3 losses and 25 points, closely following Brazil's second place with 10 wins, 2 losses and 31 points. The latter sits on Evergrande's double foreign aids Tandara and Figare, but the age structure is biased Greatly buried hidden dangers for the subsequent impact of medals.
The 5th and 7th places in the Women's Volleyball World League are Russia 8 wins 4 losses 23 points, the Netherlands 8 wins 4 losses 23 points and Dominica 7 wins 5 losses 23 points, of which the Dutch win-loss ratio 1.5 beats Dominica 1.3 rankings. The 9th to 16th places are Belgium 5 wins, 7 losses and 11 points, Serbia 4 wins, 8 losses and 14 points, Poland 13 points, Germany 12 points, Canada 3 wins, 9 losses and 11 points, South Korea 9 points, Italy 2 wins, 10 losses and 9 points. Thailand has 1 win, 11 losses and 3 points. Due to the disadvantage of the win, it missed the semi-finals of the world league ahead of schedule. (Ren Yuyin)
Temporary rankings for the 12th round of the 2021 Women's Volleyball World League:
The United States (12 wins and 0 losses 36 points, win-loss ratio 12.000, win-loss ratio 1.380, advance to the semi-finals three rounds in advance)

Brazil (10 wins, 2 losses, 31 points, 3.666 wins and losses, 1.315 wins and losses)

Japan (9 wins, 3 losses, 25 points, win-loss ratio 1.800, win-loss ratio 1.102)

Turkey (9 wins, 3 losses, 24 points, odds ratio of 1.764, 1.067 points of victory)

Russia (8 wins, 4 losses, 23 points, win-loss ratio 1.588, win-loss ratio 1.087)

The Netherlands (8 wins, 4 losses, 23 points, win-loss ratio 1.500, win-loss ratio 1.067)

Dominica (7 wins, 5 losses, 23 points, win-loss ratio 1.300, win-loss ratio 0.998)

Chinese women's volleyball team (7 wins, 5 losses, 21 points, win-loss ratio 1.238, win-loss ratio 1.042)

Belgium (5 wins, 7 losses, 11 points, win-loss ratio 0.580, win-loss ratio 0.914)

Serbia (4 wins, 8 losses, 14 points, 0.703 win-loss ratio, 0.909 win-loss ratio)

Poland (4 wins, 8 losses, 13 points, 0.750 wins and losses, 0.987 wins and losses)

Germany (4 wins, 8 losses, 12 points, 0.615 win-loss ratio, 0.933 win-loss ratio)

Canada (3 wins, 9 losses, 11 points, win-loss ratio 0.566, win-loss ratio 0.856)

South Korea (3 wins, 9 losses, 9 points, 0.419 win-loss ratio, 0.898 win-loss ratio)

Italy (2 wins, 10 losses, 9 points, win-loss ratio 0.516, win-loss ratio 0.927)

Thailand (1 win, 11 losses, 3 points, win-loss ratio 0.176, win-loss ratio 0.746)