Leju Finance Fan Huiru from Guangzhou
At the moment when the property management industry mergers and acquisitions market is in full swing, Poly Group "reversely" transfers and divides its property assets without putting it into Poly Properties (06049.HK).
On June 4, Guizhou Jiulian Group Real Estate Development Co., Ltd. ("Jiulian Real Estate"), a subsidiary of Poly Group, listed and transferred 11.49% equity of Guizhou Jiulian Group Xinlian Property Management Co., Ltd. ("Xinlian Property") , The base price is 485,600 yuan.
Before the transfer, Yuan Jia held 63.51% of Xinlian Property, 11.49% of Jiulian Real Estate, 10.71% of Cao Jing, 9.82% of Meng Qinghua, and 4.46% of You Qiong.
The transferor Jiulian Real Estate is 99.31% owned by Poly Jiulian Holding Group, and Poly Xinlian Blasting Engineering Group holds 0.69%. The major shareholder behind it is Poly Group.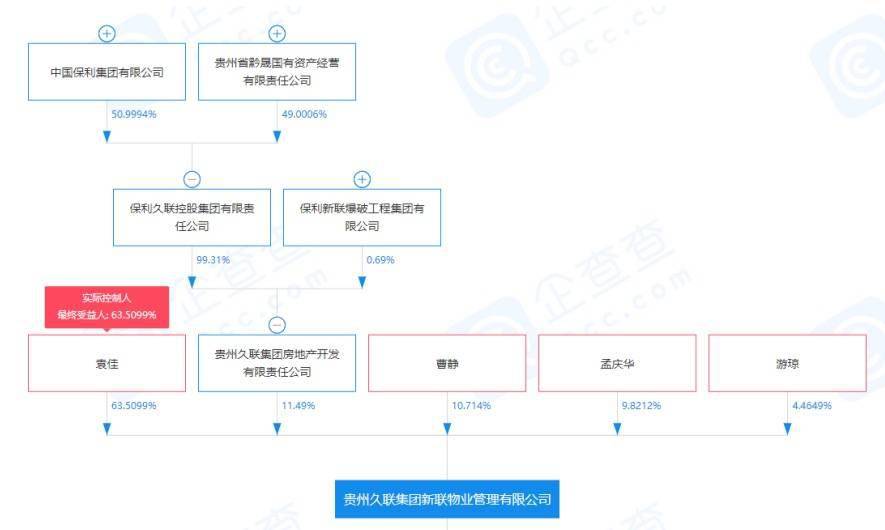 As the saying goes, fertile water does not flow to outsiders' fields, and now the dispute over the scale of the property industry is becoming more and more fierce, why does Poly Group not directly transfer the property to its brother company Poly Property, but choose to list for transfer? Behind the seemingly reverse operation, what are the plans of Poly Group and Poly Real Estate?
Xinlian Property lost 66,000 in 4 months
As Coase's Law says, resources will always flow to the most valuable way of use. Poly Group chooses to sell Xinlian Property at this time, or it is the value mismatch between the two.
Xinlian Property, established in 2002, has a registered capital of 3.11 million, and its legal representative is Yuan Jia, the 63.51% shareholder. When Xinlian Property was established, it was destined to be unable to expand into a larger property management market.
From the perspective of its business scope, it includes general business items: property management (below 200,000 square meters); interior decoration and decoration; construction and maintenance of landscaping projects.
The property management item is clearly marked below 200,000 square meters. If the average is 100 square meters per household, it is 2000 houses. If there are 2 units per building, 2 households per unit, and 11 floors, it is equivalent to about 45 small buildings. The scale of high-rise building area is about 2-3 medium-sized residential districts.
Judging from its revenue, in the financial statements as of April 30 this year, there was a loss in operations, with a 4-month revenue of 1,932,300 yuan and a net profit loss of about 66,000 yuan.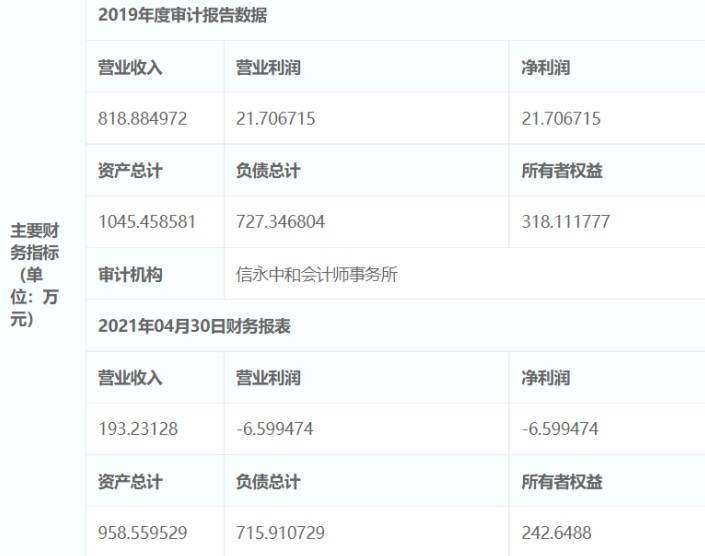 As of April 30, Xinlian Property has total assets of approximately 9.586 million yuan and liabilities of approximately 7.159 million yuan. If the 2019 net profit is 217,000 yuan to calculate the PE multiple of the reserve price of this transfer, the reserve price is about 2.2 times PE of 485,600 yuan, which is far lower than the average level of the merger and acquisition market.
Regardless of the quality of the subject matter, the most important thing is that the transferor Jiulian Real Estate only holds 11.49% of the equity of Xinlian Real Estate. Even if it is transferred to the brother company Poly Real Estate, it cannot be consolidated.
In this view, Poly Group's listing and transfer of its Xinlian properties may be nothing more than normal liquidation and sorting of non-high-quality assets.
Large volume of 380 million scale
Transfer and undertaking are two-way choices. There may be other considerations behind the fact that Poly Real Estate did not directly take over Xinlian Real Estate, and from the current scale, it has its own confidence not to accept it.
In 2020, the area under management of Poly Properties has become the first among listed property companies. As of the end of 2020, the area under management of Poly Properties is approximately 380 million square meters, a year-on-year increase of 32.3%.
Among them, the area under management from third parties is about 228 million square meters, which has further increased from 55.1% in 2019 to 59.9% in 2020. Nearly 60% of the area under management comes from third parties.
In 2020, Poly Real Estate added 382 third-party contract projects, corresponding to a single-year contract value of approximately 1.72 billion yuan, of which 355 projects were obtained through bidding, corresponding to a single-year contract value of approximately 1.64 billion yuan.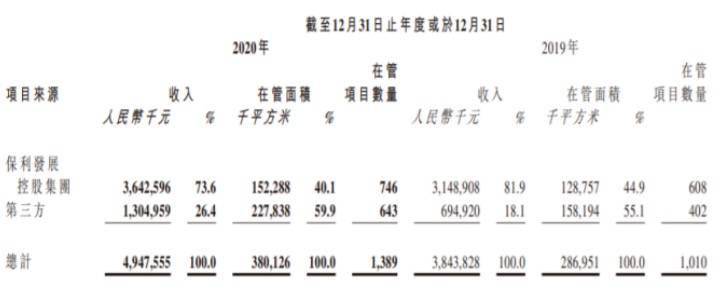 The contract value of Poly Real Estate's bid for the new extension project in 2020 is 1.64 billion yuan, which is equivalent to 33.1% of the annual property management basic service income of 4.948 billion. This also means that the performance growth of Poly Realty does not depend on the increase in mergers and acquisitions to a large extent. .
Poly Real Estate has also made new breakthroughs in third-party outreach projects. The residential and commercial property management fees from third-party projects increased by 0.1 yuan and 1.6 yuan/square meter/month respectively.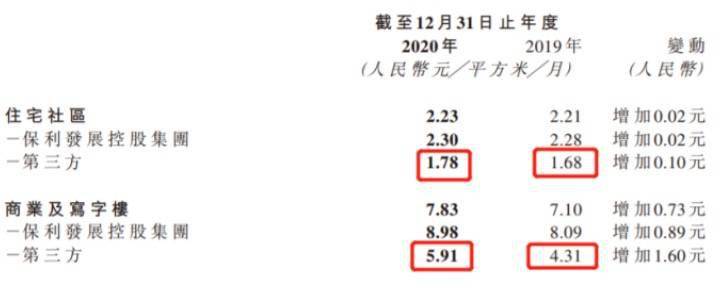 At the same time, the performance of Poly Real Estate is also growing steadily. In 2020, it will obtain 8.04 billion yuan in revenue, a year-on-year increase of 34.7%; realize a net profit of 670 million yuan attributable to the parent, a year-on-year increase of 37.3%. Although the property management of Poly Properties does not have a high gross profit margin, the net profit margin of Poly Properties shows an upward trend in 2020, which is 8.7%, an increase of 0.3 percentage points.
Article source: Leju Finance